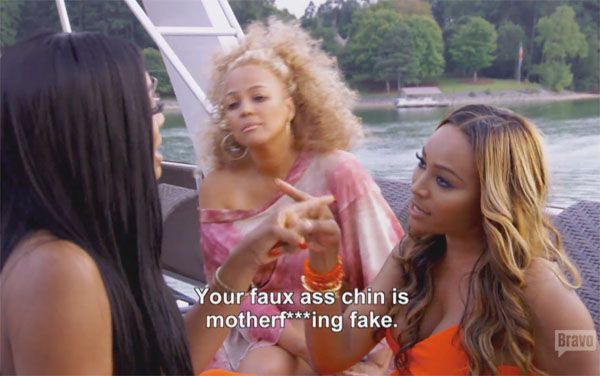 Things got super heated between Cynthia Bailey and Porsha Williams on last night's episode of "Real Housewives of Atlanta." Get the low-down and peep the clip of the reality stars brawlin' on a boat inside…
In case you were watching the 2015 Soul Train Music Awards last night, we've got the latest on what happened on "RHOA." And apparently, ish went totally left as the ladies tried to enjoy a day sailing on a boat.  Surprise surprise.  In true "RHOA" style, two of the ladies exchanged words and then things got physical.  Yes, they're still doing this in 2015.
Castmate Kenya Moore scheduled a" fun" girls' day -- which she called Cynthia's bachelorette party -- where the ladies would party it up on a boat to try and cheer Cynthia Bailey up in the midst of her marital troubles. But Cynthia got way more she bargained for.
Cynthia and Porsha got INTO it and things escalated quickly where hands were thrown. Yep, Porsha was involved in yet another physical altercation on the show.
It started when Porsha came over to Cynthia to find out what she did that upset her. The two had apparently been calling each other "b*tch" in a playful manner all day, but the last time Porsha used it towards Cynthia, the model mom felt some type of way. Could it have been the drinks?  The stress over her and Peter's crumbling marriage?  Who knows.
Next thing you know, hands are flying in each other's faces, they're calling each other names and then these chicks are BRAWLIN'! Chile…
Check it:
#TeamTooMuch!  We really hoped the ladies had grown since the first incident.  But shade was being thrown (by you know who) within the first 30 seconds of the chicks stepping foot on the boat.  And it spread to the rest of the group and went downhill from there.
We predict another Porsha mugshot coming in 5...4...3...2...
Photo: BRAVO