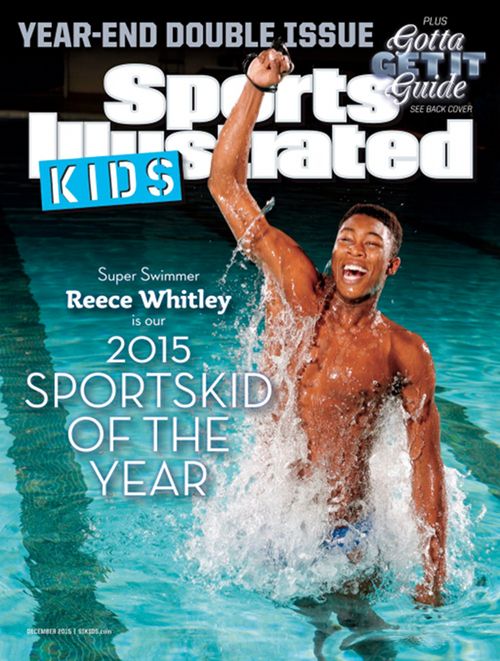 Now THIS made our morning here at TheYBF.com.  Meet YBF Teen Reece Whitley inside and why he's about to become the face of TEAM USA Swimming...
He's 15, 6'8 (yes, you read that right), and a seemingly humble youngin' with an immense amount of effortless talent.  He's Philly native Reece Whitley, and he's the brand new cover star of Sports Illustrated KIDS and the 2015 SportsKid of the Year!
The new issue was unveiled this morning as Reece himself appeared on "Good Morning America."  What we're most impressed about?  He already is actively taking on the responsibility of changing the statistics surrounding black children and swimming.
When asked how he felt about stats that say over 70% of black children cannot swim (and the dangerous situations that can lead to), he said that he knows he will need to do create ways to change that. 
We believe his presence itself in the swimming world is a start!
Reece is currently in trials to compete for a spot on TEAM USA for the 2016 Olympics, and we have total faith that he's a shoe-in for the job.  His stats so far are the reason why:
...the sophomore at William Penn Charter School has won a junior national championship and holds five individual national age-group records in the pool, where he has become one of the top young swimmers in the country. His times in the 100- and 200-meter breaststroke last year qualified him to compete at the 2016 U.S. Olympic Trials this June in Omaha, Nebraska. He's also become a role model for young swimmers in his community and wherever he travels.

For his talent, humility, and willingness to mentor younger athletes in his sport, Reece Whitley is the 2015 Sports Illustrated Kids SportsKid of the Year.
Interestingly, Reece's first love was basketball and he still loves it.  Even after being able to dunk by 13, he switched his focus to swimming.  He says he thanks his mom for putting him in swim lessons after he failed a few swim tests when !  (Get his full story HERE.)
Reece is being tauted as the next Michael Phelps (thanks to his stature, wingspan and domination so far).  We're just going to call him the first Reece Whitley.
Record-setting Olympic Champ Michael said about the Olympic hopeful:
"Getting to know Reece a little bit, he's incredible. The guy is very talented, he's super relaxed, super outgoing, just kind of go-with-the-flow. He's seeing results, he's having fun, he's enjoying himself. He's a stud."
Check out the tweet from First Lady Michelle Obama and a few pics of the SportsKid having a ball in his own element below.  Good luck Reece!
Congrats @_reecewhitley on becoming @SIKids#SportsKid of the Year. We are so proud of you! https://t.co/6QMvobCzP7pic.twitter.com/Cffoih2PhJ

— The First Lady (@FLOTUS) November 30, 2015
Photos: SportsIllustrated/Reece's IG