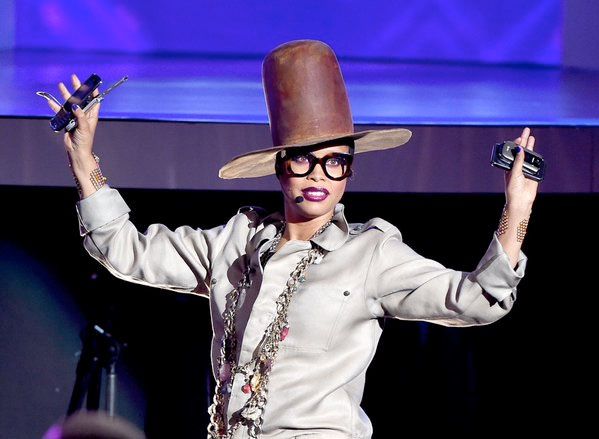 Erykah Badu has the Internet talking this morning after her extra shady intro to open up the 2015 Soul Train Music Awards last night. Get the truthful tea inside…
Known to not hold her tongue and tell it like it is, Erykah Badu held nothing back during her intro for the 2015 Soul Train Music Awards. The "Hello" songstress was tapped to host the ceremony (which she also helped produce) and her opening monologue was quite shade-ful, but very truthful, to say the least.
Ms. Badu, who just released her But You Caint Use My Phone mixtape, took center stage with a cell phone in her hand as she pretended to call up celebrities to invite them to the show. As soon as Erykah said "Uh yes…who is this? Iggy Azalea?" we KNEW something was about to go down.
If you haven't heard, this year's awards were specifically dedicated to all soul/R&B acts…NO RAP! So, Erykah continues, "Yeah. Hey. Oh…no, no, no, you can come because what you're doing is DEFINITELY not rap. In fact, I'm going to send an Uber for you right now."
While what she said was very shady, it was ALL truth and funny. Check it (before it gets snatched down):
BLOOP! As of the time of this post, Iggy has yet to respond. Let's hope she doesn't. Y'all know Erykah has this disclaimer pinned at the top of her Twitter account, "Look.. I choose peace but , say... Don't walk up on me wrong.. This Tea and Incense can turn into Colt 45 and Newports if NEED be.. OK?"
Take note Iggy.
Photo: BET's Twitter/Getty