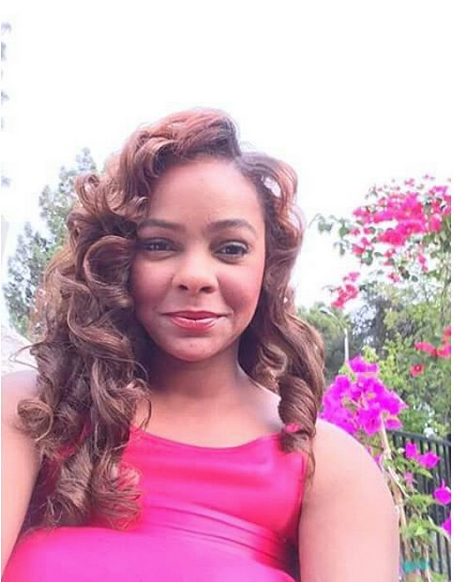 Lark Voorhies just joined Instagram two weeks ago, and she's already setting ish off.  Find out how she read her soon-to-be ex-husband for FILTH inside....and if it was REALLY her....
Former "Saved By The Bell" star Lark Voorhies has gotten her makeup situation all the way together, so now she's feeling herself.  Or is she?
Last night, a post on Lark's account grabbed folks' attention.  She filed for divorce last month from the shady Jimmy Green after six months of marriage.  She filed for a restraining order on the ex-gang member as well.  So when this messy message popped up on Lark's IG, it was quite believable:
To whom this may concern. I am single! Jimmy couldn't fork up a dime for our divorce. There's an active restraining order that he continues to violate. No sex tape even physically exists. Do you really think he could afford a camera? I gave him money multiple times and put minutes on his Obama phone. You better take a U-Turn on that bus. Everyone in Pasadena knows you're a joke. Gang Member? You lost your job at Taco Bell. Your penis is NOTHING to brag about! Is it normal for a penis to smell like corn chips?

I chose to not be in the spotlight. I am an amazing author (3 Books on Amazon) and I am currently working on a short film that I wrote & directed and putting the final touches on my highly anticipated album! I'm too busy to interact with you bugaboos. Take care and god bless! LV
Between the corn chip penis and this alleged "highly anticipated album," nail our coffin shut chile....
Lark claims her "account was hacked."  Yes....hacked by someone who just wanted to post this, apparently.  She reposted our Instagram link about her post and said:
My Instagram account was hacked, I never wrote such things! LV https://t.co/HJ9cVWncVB

— Lark Voorhies (@TheLarkVoorhies) November 30, 2015
Ok girl...
Photos: Lark's IG