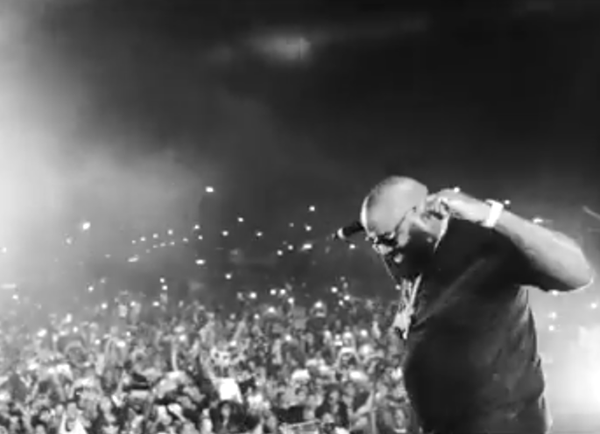 In today's round-up of music bits, Rick Ross releases a new trailer for his upcoming album Black Market,Sevyn Streeter remixes Bryson Tiller's "Don't," and Kendrick Lamar almost got kicked out of a wedding reception. Clips inside….
Rick Ross fans will be happy to know the Miami rapper's upcoming eighth studio album Black Market will be here in two weeks. And to tease his upcoming LP, the MMG honcho unleashed a new trailer featuring the rapper's live concert performances, studio sessions and what its like to live the rockstar lifestyle.
It's been a good November for Rozay. He was taken off house arrest, he got his fiancée Lira Galore back (if they every really broke up) and now he has a new musical project coming. Must be good to be the Bawse right now.
Peep the trailer below:
Black Market drops December 4th.
In new music....
Sevyn Streeter is back with another hot remix. After putting her spin on Torey Lanez's "Say It" and "Drama" by Roy Wood$ ft. Drake, the R&B songstress is putting her "Streeter Switch" on R&B singer Bryson Tiller's "Don't."
It's always fun hearing tracks get transformed from the female's perspective. Seems like Sevyn is on to something here. Take a listen above.
In other Sevyn news....
The YBF chick is currently traveling the nation on her 7-city tour rocking the stage with her hits from her debut album Call Me Crazy But… and her EP Shoulda Been There Part 1.
The 29-year-old singer is gearing up to release her sophomore album On The Verge. No word on when it'll be released to the masses. But, in the meantime, peep Sevyn's performance with Mack Wilds and Sean Garrett at SOB's in NYC last week below:
Sevyn's next show is on Wednesday, November 18th at the El Rey Theatre in L.A.
And for a quick laugh...
Kendrick Lamar and his homies decided last month they would crash a wedding reception. But ish almost went totally left once one wedding guest realized the guys didn't know the newlywed couple.
In the clip, we see Kendrick rush to the dance floor as "I Wanna Dance With Somebody" by Whitney Houston plays in the background. Soon, a man walks up to one of Kendrick's friends and asked "Who got married?" When they didn't answer that's when tensions began to flare. No worries though. It's reported someone finally realized who Kendrick was and everything was cool. Check it above.