Terry Crews and his wife Rebecca Crews went 90-days without sex and the actor reveals it left him more in love with his wife than ever. In another big reveal, Oprah Winfrey shared she has lost 15lbs with Weight Watchers after her huge investment. Get the deets inside….
Terry Crews, the host of FOX's "World's Funniest," and his wife Rebecca Crews decided to add a little spice in their relationship…but in a different way. Rather than physically getting close to bring back the fire, the couple, who have 5 children together, decided to go on a 90-day fast from sex. And the results were more than what they were expecting.
The 47-year-old actor sat down with Huff Post where he revealed after abstaining from sex for 90-days it left him 'more in love' and 'more turned on' than ever. Oww!
He dished,
"90 days -- no sex, all relationship, all talk, all cuddle. And I found that at the end of that 90 days, I was more in love, more turned on. I knew who she was, and it wasn't about 'Let's go out because I know I'm gonna get some sex later.' It was like, 'Let's go because I want to talk to you. I want to know you'."
Awww!
He added,
"Every man has a desire for intimacy. You're not looking for porn. You're looking for someone to know you and love you at the same time," he outlined. "That's all you want -- every man out there. But he's scared sometimes. That's why men put up big fronts."
Check it:
Look at Terry dropping those gems. Take notes.
In another big reveal….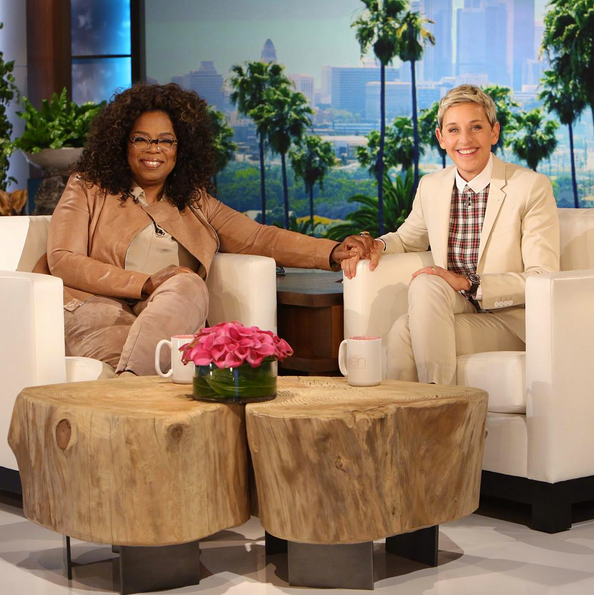 Oprah Winfrey has been in the headlines for "The Oprah Effect" taking over the stock market after Lady O doubled her investment in Weight Watchers. If you haven't heard, Oprah purchased10% of the company, causing the stock to spike 105% and doubled her investment making her $75 million in ONE day. Yes, "The Oprah Effect" is REAL.
Now, she's revealing how the business venture came about and how she's already lost 15lbs with the company.
During a sitdown on the "Ellen DeGeneres Show," the media mogul explained how Weight Watchers approached her to become the new face, but she was hesitant at first. She said she had to try the program before endorsing it, but wasn't fond of having to count points. She decided to give it a try and she was clearly satisfied.
She told Ellen, "Since August 12, I have lost 15 pounds! But I am excited about Weight Watchers being able to bring a healthier more holistic approach for everybody."
Nice!  You're always fab in our eyes Lady O.
Check it below:
Photos: Getty/Ellen's IG