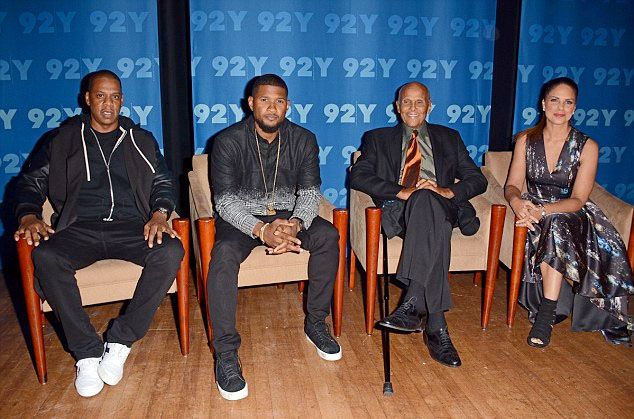 In rumor control news, Rihanna's ex-publicist Johnathan Hay is publicly apologizing for those made up rumors about Beyonce and Jay Z splitting up over an alleged Rihanna affair. Sighs….
Get those deets and find out how Hov joined the conversation about social injustices with Usher, Harry Belafonte and Soledad O'Brien inside….
Yesterday, Jay Z joined Usher, civil rights legend Harry Belafonte and journalist Soledad O'Brien for a conversation dubbed "Breaking the Chains" to continue the conversation about social injustice. Looks like Hov and Mr. Belafonte squashed their differencesfor the greater good.  And, of course, we're not mad at that.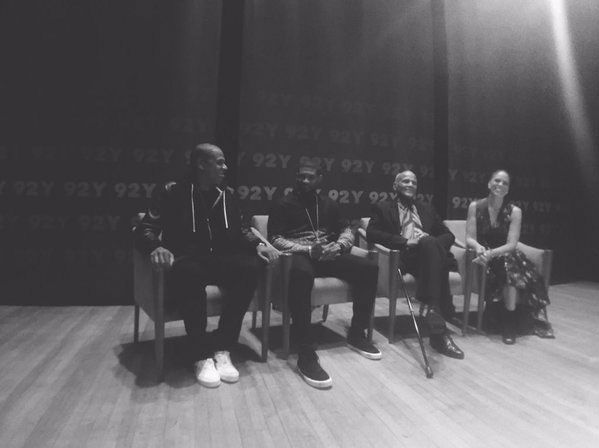 The A-list celebs arrived at New York's 92Y to chop it up about these issues and creating creative ways to help solve these injustices. This conversation comes a week after Usher released a powerful new track with Nas and Bibi Bourelly titled "Chains" to help raise awareness to racial injustice and police brutality.
In a statement accompanying the track Usher said,
"The reality is that racial bigotry diminishes the lives of too many people in our country. We have to come together as a country to solve these problems and this is one way I can contribute."
We love it when our YBF celebs join together and use their platforms for a good cause.
We'd like to note on Thursday, Mr. Belafonte suffered a seizure right before he was to be honored at the Bedford Stuyvesant Restoration Corporation's Restore Brooklyn Annual Benefit Gala in NYC. He was on his way there before falling ill and having to cancel. He did end up calling in on speakerphone saying,"[I want to] express my deep, deep sense of regret I was not able to be in attendance this evening."
Thankfully, he's doing much better and we're happy to hear that.
In other news…
So…those rumors that were circulating the 'net about Beyonce and Jay Z (above, leaving Chance the Rapper's show at Terminal Five) splitting in 2005 over an affair with a 17-year-old Rihanna…they're false! Like we suspected.
RiRi's ex-publicist has come forward to debunk the rumors revealing he never meant for the fake rumor to get out and that he had concocted the PR stunt out of desperation to break Ri's track "Pon de Replay."
In an email to The Daily News, he spilled,
"The pr stunt that I did was out of desperation to help break 'Pon de Replay'. It was reckless and I didn't think it was going to work. I was just throwing spaghetti at the wall to see what would stick."
So how did it get out? Well, best-selling writer J Randy Taraborrelli is releasing a new unauthorized biography titled Becoming Beyoncé: The Untold Story and that's one of the stories told in the book. Johnathan allegedly leaked this fake information to Taraborrelli's researcher, and now he's trying make a profit.
Johnathan revealed he was blindsided by the book and that he has apologized to both Bey and Jay for the madness. What makes this all even crazier is that, Johnathan is now doing music and he's currently releasing projects through TIDAL. He said,
"I was blindsided by the news of 'Becoming Beyoncé' coming out and it couldn't come at a worse time for me," Hay said in a statement. "I'm currently releasing projects with my label Urban Hitchcock through Tidal, a company that is owned by Jay Z and Beyoncé ... Hopefully this news hasn't ruined that relationship for me."
In closing, he said he just wants it to all go away,
"I'm ashamed that I'm even talking about this. I just want to put this rumor to rest once and for all."
Well there's that.
Meanwhile...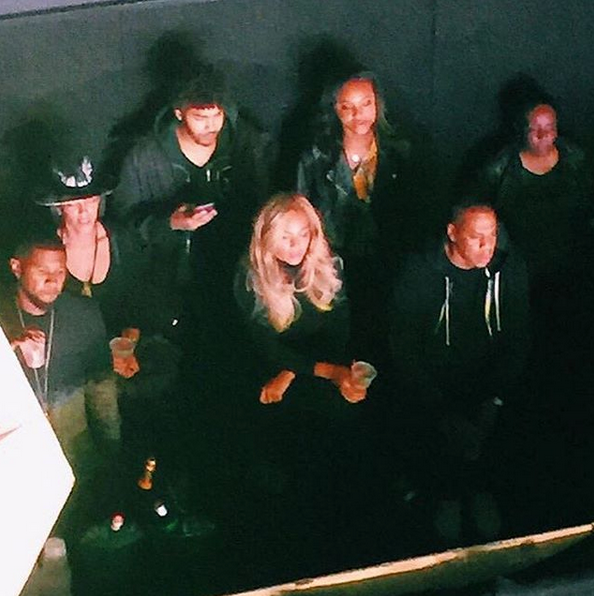 The Carters are unbothered by it all. Looks like they had a good time with their homie Usher at Chance the Rapper's concert last night. Fun times.
Photos: Splash/INF/@everythingusher