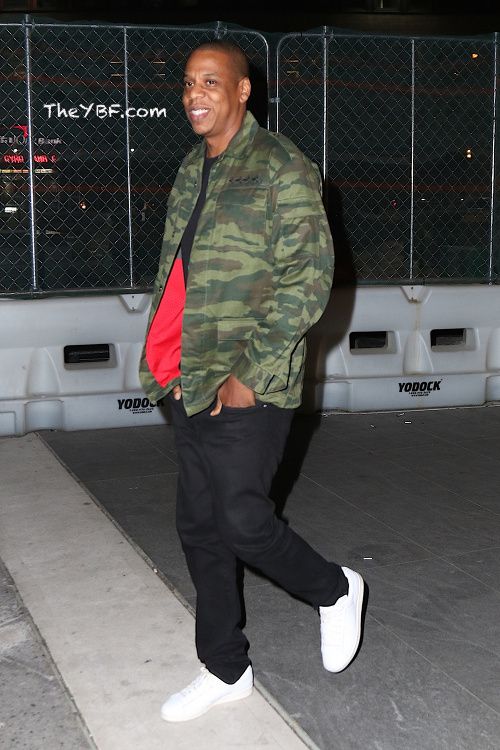 Rap mogul Jay Z (shown leaving his NYC office) has a lot to smile about as he just won a huge lawsuit regarding a sample used for his hit "Big Pimpin."  More inside....
Last night, Beyonce and Jay Z were all smiles as they stepped out for a date night in NYC hitting up the Broadway play Hamilton.  In addition to a successful TIDAL X:1020 charity concert earlier this week, Jay and his legal team got some good news!
On Wednesday, U.S. District Judge Christina A. Snyder dismissed a copyright infringement case against Jigga over his 1999 hit "Big Pimpin.'"  She ruled the heir of an Egyptian composer did not have the right to pursue a copyright infringement claim. While she didn't give the court a detailed explanation regarding her ruling, court witnesses say she told the jurors that she'd decided to toss the case after she heard some testimony from experts on Egyptian law.
A little backstory.....one of the heirs of Baligh Hamdi, an Egyptian composer whose 1957 song "Khosara Khosara" is used in "Big Pimpin'," sued Jay Z and Timbaland and several media companies in 2007. He claimed several flute notes from Hamdi's composition are heard throughout the track.  Reportely, Jay did pay to use the sample, but the plaintiff says the sample was not used in accordance with Egyptian law....meaning the notes were used in a raunchy rap song.
"We think it's completely wrong, and we'll appeal," said Pete Ross, the family's attorney.
Meanwhile, Jay Z's attorney Andrew Bart boasted, "My client is pleased with and gratified by the decision." We're sure Jay and Timbo are happy their situation turned out better than Robin Thicke and Pharrell's"Blurred Lines" battle with Marvin Gaye's estate.  You'll recall that the music industry dragged them through the street and Robin's career (and maybe his pockets) still haven't recovered.
Photos via Pacific Coast News/TheYBFDaily IG