Both Kanye's ex Amber Rose and his wife Kim Kardashian celebrated their birthdays yesterday.  Find out how Mr. West surprised Mrs. West and how Amber spent her big day inside...
If you've been following Kanye West and his relationships, you know he has a thing for Libra ladies. His wife Kim Kardashian West and his ex-girlfriend Amber Rose share the same birth date: October 21st.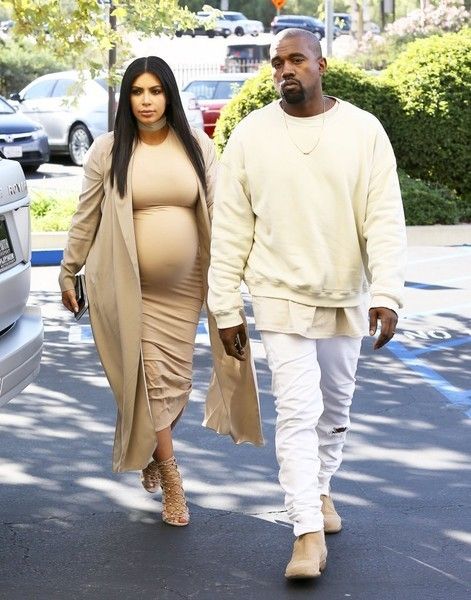 Yeezy put together something special for his pregnant wife (who is due in December) for her 35th birthday. He rented out the Cinepolis Luxury Cinemas in Westlake Village, California (y'all know the Wests love a movie date) to celebrate.
The surprise birthday bash (which was kid-free) had a special theme to commemorate the coming of their second child: a baby bump theme! Partygoers were reportedly asked to dress-up in their best pregnant Kim look with fake baby bumps provided upon arrival. Interesting.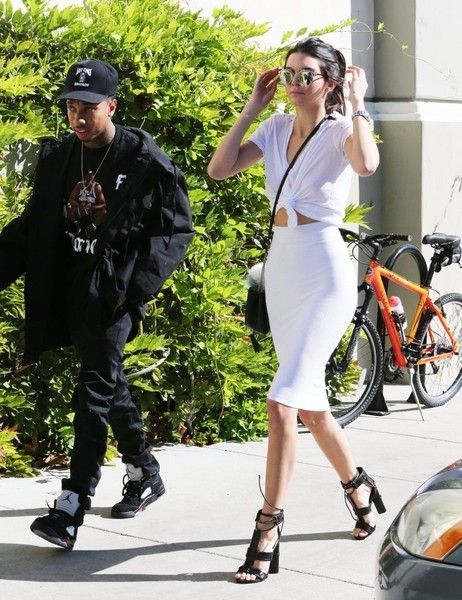 Guests included her mom Kris Jenner and her boyfriend beau Corey Gamble, Kim's sisters Kourtney Kardashian, Kendall Jenner and Kylie Jenner, Kylie's beau Tyga and step-dad Caitlyn Jenner was also in attendance.
After toasting it up for the birthday girl, everyone entered the movie theater for a private viewing of the new Steve Jobs film. Kim gushed over the day on Instagram saying,"My husband never ceases the amaze me! He rented out the entire movie theater to screen the new Steve Jobs (It's sooooo good BTW) and had all of my family & close friends come dressed up as their best pregnant Kim look (fake baby bumps provided on arrival!) Not sure if that was to make me feel less huge or just a fun cool theme but I loved it & had the best time ever, feeling so very comfortable eating churros with a bunch of pregnant women! Just what I needed, the perfect chill yummy food birthday!!!!"
Earlier in the day...
Auntie Kourtney was spotted taking cutie North West and her cousin Penelope Disick to their dance class in Tarzana.
The adorableness that is North was decked out in her tutu and tap shoes as they exited class.
Cute.
Meanwhile...
Sister Code actress Amber Rose turned 32 yesterday. And to celebrate, the blonde bombshell trekked to Jinkys Café in Sherman Oaks to lunch with friends.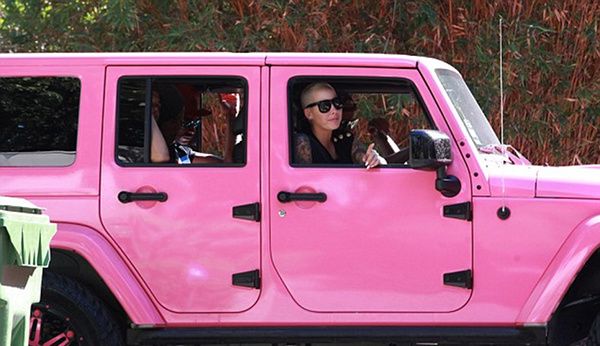 Just a few days ago, Amber was busy poppin' off on Instagram at GQ magazine for "dumbing" her down, labeling her as Kanye West's ex-girlfriend and Wiz Khalifa's ex-wife. While we get what she's saying about not wanting to be labeled as someone's ex, that's really her claim to fame. Guess she has to learn to take the good with the bad. But, GQ did shine light on her feminist efforts and being a businesswoman. You can get the deets HERE.
Happy Belated Birthday Amber!
Photos: FameFlynet/WENN