We definitely saw this coming. After Meek Mill got wind of his labelmate Wale saying he "brought a pencil to a gun fight" when giving his 2 cents about Meek's rap battle with Drake, Meek's Twitter fingers got to work. Find out what he said and how the MMG honcho Rick Ross shut it down inside….
Looks like there's drama in the Maybach Music Group camp…again. And the beef is between two rappers who are always in some ish: Meek Mill vs. Wale!
Yesterday, Wale hit up "The Breakfast Club" to plug some new music he was dropping, but since we haven't heard much from the D.C. rapper since his labelmate Meek Mill got bodied by Drake, of course that was one of the topics of discussions.
During the chat, when asked what he thought about the rap battle, Wale said,
"I honestly think he [Meek] bought a pencil to a gun fight. You can't compete with somebody who has those types of relationships. It doesn't matter what he [Meek] made. He could have wrote Ether 3.0 and the opinions of the people would have been the boy from Canada waxed him. I don't like how people trying to make Meek look like a punching bag. Why are y'all talking about this on ESPN? Why are y'all doing that?"
The "Ambition" rapper also said he was still cool with Meek and that he didn't like how people were trying to play him. But apparently Meek didn't read the full highlights or even listen to the interview because he hopped on Instagram to pop back at his MMG labelmate, making claims that Wale was no longer part of the crew.
Here's what he said (and then deleted):
Yikes! That suicide reference is crazy. Wale has mentioned he struggled with depression before and said there were moments were he felt like self-destructing. 
Meek also reposted a picture MMG honcho Rick Ross posted of them performing at the TIDAL concert the other night with the caption: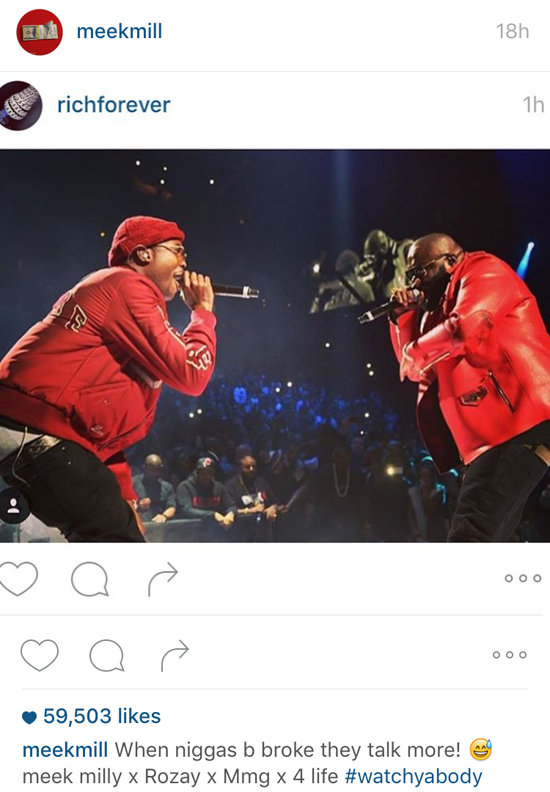 "When n*ggas b broke they talk more! meek milly x Rozay x Mmg x 4 life #watchyabody"
It seems the 21st of the month is when Meek is really feeling himself. You'll recall, the Philly rapper ignitied the Drizzy beef on July 21st and then he popped off on Wale on October 21st. Hmph.
Well, y'all know Wale isn't one to bite his tongue, so he hopped on Twitter responding to followers about the ordeal. Peep a few of his tweets below:
He then hopped on Instagram to pop back at Meek's claims that he's no longer apart of MMG posting a picture of his "MMG" tattoo:
He captioned,"We here permanently"
If there was any doubt as to whether Meek's comments about Wale not being apart of MMG held any weight, look no further, the BAWSE set the record straight. He hopped on Instagram and posted a video of Wale performing last night with the caption:
"Tonight @wale tore down as @djkhaled would say "Another One" !!! Never question THE EMPIRE #MMG"
Rozay also addressed the issue on his SnapChat:
Clearly, Meek was just talking out his a**.
After Wale finished his set....
He snapped a pic with his labelmate Stalley promoting the upcoming Self Made 4 compilation album. Let's see if Rozay can sit his little brothers down and get them back on the same page again. Meek and Wale STAY in their feelings, so it will likely be a challenge.
Photos: Meek's IG/Wale's IG