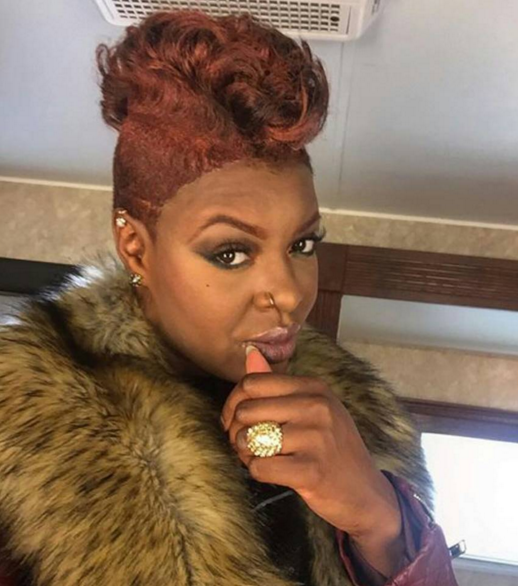 Actress Ta'Rhonda Jones revealed to millions of tv viewers how her mom came up with her birth name...and it's gonna make you gag!  Watch her explain inside and find out why Tia Mowry Hardrict's "Instant Mom" got cancelled.
Ta'Rhonda Jones, one of the breakout stars of FOX's highly rated series "Empire", appeared on CONAN recently where she share a pretty funny (and slightly ratchet) story about the origin of her name. It involves her mom having relations with two dudes during the same time frame.
Because Conan O'Brien has a unique name too, he asked Ta'Rhonda how her parents came up with her name. Then Ta'Rhona went into her "origin" story.....
"My mother was dating two men at the same time, Tyrone and Ronny." You can already tell the ratchetness is coming on....
She went on to reveal that all of her siblings' names begin with the letter "T" and since her mom wasn't "sure" who her father may be, she decided to name her after BOTH men. Chile...
It gets better (or worse).....
Then she told Conan that her mom "pimped" both men into making sure she received everything like school supplies, clothes and other essentials. SMH.....
We're not done yet.....
It turns out NEITHER of the men turned out to be her biological father. Her real dad's name is Derrick.
So....Ta'Rhonda laughed and told a national tv audience that her mom was sleeping with three men at the same time with no protection. We gotta do better......
In tv announcements...
We have some sad news for fans of Tia Mowry Hardrict.  After three seasons, DEADLINE is reporting that Nickelodeon (TV LAND) has decided that "Instant Mom" will not continue once its current season ends. The cast and crew all got their pink slips a few days ago...
While "Instant Mom" garnered decent ratings for the network, we're told that the company has decided to put its original scripted programming efforts on hold. "Instant Mom" starred Tia Mowry-Hardrict, Michael Boatman, Sheryl Lee Ralph, Sydney Park, Tylen Jacob Williams and Damarr Calhoun.
But no tears here.  She's already lined up her next gig!  Tia's voicing one of the animated characters on Nickelodeon's latest animated series "Fresh Beat Band of Spies."  Congrats Tia!
 Photo via Ta'Rhonda's IG/Tia's IG