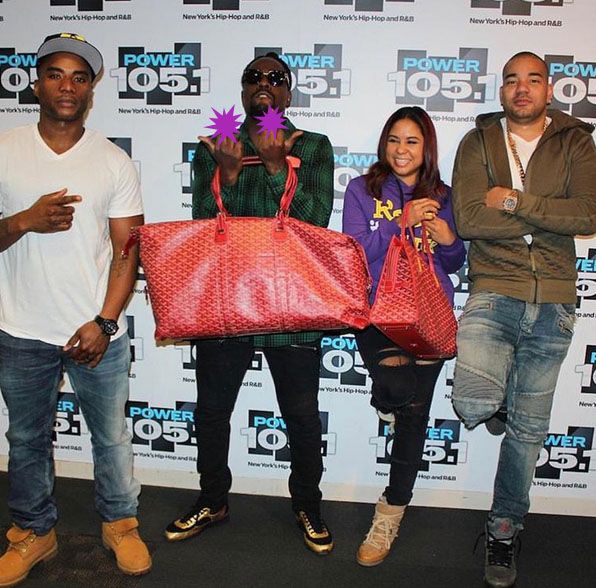 Wale chats with the "The Breakfast Club" about his love life, rap battles, the current state of Maybach Music, gay rappers making it in the industry and much more. Get all the deets inside….
Wale stopped by Power 105 "The Breakfast Club" this morning to chop it up with the radio hosts about multiple topics. One in particular that caught our attention was the deets he spilled about his love life. A few weeks ago, rumors were circulating that he was dating "Empire" starlet Serayah. Well, Wale said he is NOT dating the YBF chick, BUT they have been working in the studio together and have created a few tracks. So ladies, he's still single…for now. He also said he thinks the show leaked the dating rumors to help boost ratings. Hmph.
The MMG rapper also opened up about his thoughts on his labelmate Meek Mill coming for Drake. He said Meek came to a gunfight with …wait for it…a pencil! Damn. He said no matter what Meek would have written, Drizzy would have still came out victorious because of who he is and his high-profile connections. But there's no bad blood between Wale & Meek...or Wale and Drizzy. He said he's cool with both of them.
Wale also touched on gay rappers making it big in the music industry and homophobia ("I would sign a gay rapper"), the #BlackLivesMatter movement ("I think people use that joint to be a rebel without a cause"), and he also reads Raven-Symone over her discriminatory comments about black/"ghetto" names.
Below are the highlights:
On dating "Empire" starlet Serayah:"Naw, you ain't seen no pictures. If I dated every girl that tweeted my song….Naw, that ain't my girl. But we have some songs together."

On being on "Empire":"Naw, don't put me anywhere near that. I honestly think that the show leaked that. The original story came from Entertainment Tonight. My black a** ain't reach no Entertainment Tonight. And the original story was kind of promoting the show."

On Meek Mill coming at Drake:"I was just like somebody off the drink right now. I haven't talked to him. I called him several times since it happened. I don't know what's going on."

On what he thought about the actual rap battle:"I honestly think he [Meek] bought a pencil to a gun fight. You can't compete with somebody who has those types of relationships. It doesn't matter what he [Meek] made. He could have wrote Ether 3.0 and the opinions of the people would have been the boy from Canada waxed him. I don't like how people trying to make Meek look like a punching bag. Why are y'all talking about this on ESPN? Why are y'all doing that?"

"It's not a fair battle. Drake is nice, but Drake can say 'I went to the bathroom, I had to pee' and n*ggas would like 'yooo he said he has to pee!' One thing I do respect, Drake never called this dude the "B" word, he never said "F" you. It was one of the most respectful diss records."

On if he and Meek are friends even after their little beef: "Yea, we cool, we friends. I'm not going to try and do what everybody else do. I see rappers try and fake turn they back on that man. I'm above all this industry stuff. I genuinely care about the dude."

On if MMG was the unit it once was: "No! I ain't going to lie to y'all. Y'all ain't dumb, we just ain't the unit we was. That don't mean we ain't cool. Everybody doing what they got to do."

On if he thinks openly gay rappers can make it in the music industry: "Of course. If a dude was gay he would get a GRAMMY. What?!  They're going to make fun of him. But, in the next three years it's going to be a dude who's not even gay that's going to be like this my last resort 'Heeey! YASSSS!' I would sign a gay rapper if he was dope. The point I'm trying to make is it's an advantage to be gay in this country right now."

On if there are gay rappers in the industry right now: "I don't know. It's 2015 all that homophobic stuff is corny. I'm uncomfortable with certain things because I never grew up around it. I'm uncomfortable with two old people kissing. I never seen affection. My parents didn't kiss in front of me."

On the #BlackLivesMatter movement:"One of the most fucked up things right now is the #BlackLivesMatter thing. It's such a big statement and means so much, but I think people use that joint to be a rebel without a cause. People just use that joint to get riled up. It's almost no way to enter that joint correctly without offending somebody. To elaborate, it's like you're anti-everything else. I'm the most afro-centric person and I actually stand for something. That #BlackLivesMatter, they was treading the waters of insulting me of my blackness. I just want black people to care about black people more. "

On Raven-Symone's discriminatory comments: "Come on shawty, you were the last hope for that TV show. What, you trying to get a rise out of these white folks? Trying to make them laugh? We're not going to mention her never more. Raven-Symone with that ideology, do you think if you weren't lucky enough to be on the 'Cosby Show' you would be struggling to get a job too? Raven-Symone is not the most discreet name. You're looking down on your own people because of their name."

On Lamar Odom's situation:"We're still praying for Lamar. The thing about depression…it makes me upset about it. Some people really be crying for help and nobody hears their cries and then when something happens everybody by their bedside, crying. It's been times in my life where I might not be saying it in words, but can't y'all tell I'm going through something?"
He also talked about Lamar Odom's situation, his recent visit to the White House, deets about his upcoming fifth studio album, MMG honcho Rick Ross wanting him to make "trap" tracks and more.
Check it below:
Photo: DJ Envy's IG