Both Amber Rose and Zendaya are challenging the magazine industry.  Amber Rose is taking "GQ" to task for "dumbing" her down while Zendaya is upset that her body was unnaturally photoshopped to sell a few copies. More inside....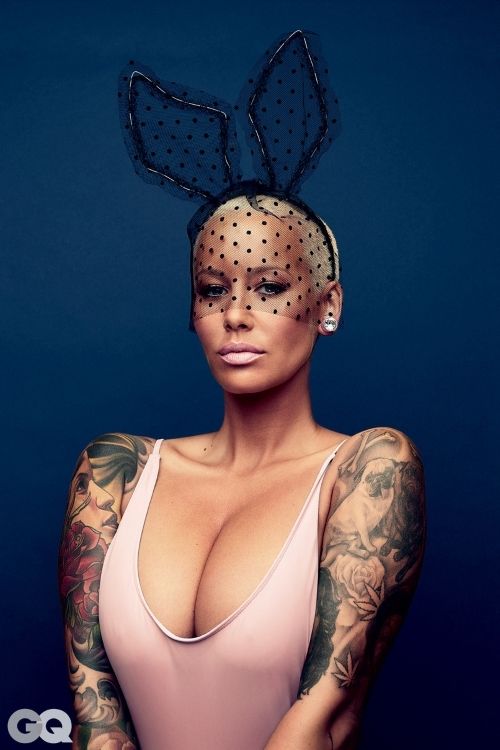 Amber Rose has a new book, How to Be a Bad Bitch, and GQ, an internationally-respected publication, reached out to do an interview AND a photoshoot.  That's a reason to high-five your publicist, right?  That's what Amber thought....until the final piece arrived on her doorstep.  
While she's definitely created a lane for herself in Hollywood and successfully (well, in some people's eyes) launched a "SlutWalk" to combat negative images of women, all GQ "saw" was an ex-stripper who sexed two rappers.  OUCH!  Get into their intro....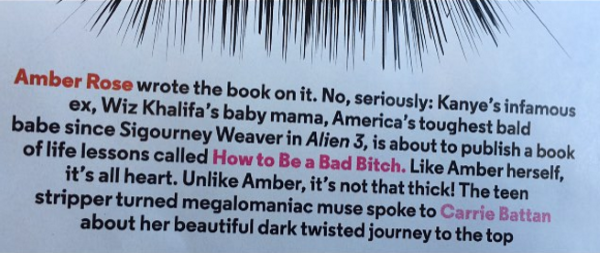 Chile.....Muva Rose was not pleased!  On Instagram she posted her response to the article and the writer's overall tone of the interview saying,
"Really @gq??? I'm so much more then Kanye's Ex or Wiz's baby's mama. Damn, why the fuck did u guys reach out to me for this article and photoshoot? To dumb me down? I talked about feminism and my Slutwalk... Wtf nice title smh I expected so much more from u guys and I'm so disappointed. I was so excited to be featured in GQ not realizing I was shooting for a tabloid. My slutwalk was for ignorant shit like this. Oh "Her beautiful dark twisted journey to the top"? Nice pun. Negative af. Thx for nothing."
To be fair......the article does have a certain "tone" to it, but it does not "dumb" down Amber to the extent she claims in her IG posting.  But she has a right to her feelings.  The writer did include some salient quotes and points from Amber about slut shaming and building her brand. 
Amber on sex: "As a woman, it's like…fuck! You have to act like a nun for a guy to respect you. And even if you do wait to have sex and you're very comfortable and you do exactly what you want to do in that moment, you have to be very careful because you don't want to be looked at as a ho," she says, exasperated. "How do you win? You do exactly what you want to do. And if it doesn't work out, then he's just not meant for you."

Amber, the businesswoman: "I have my own house. I have a Ferrari. I have a Jeep. I have an Escalade. I have two Can-Ams. I have a beautiful son, two assistants, lawyers, business managers, management, and access to pretty much whatever I want," she says. "It does become intimidating for a man. I do feel more comfortable with someone who's living up to par with me."

Amber on moving beyond Kanye and being called a "ho": ""Why would I go listen to Amber talk? She's only famous because she fucked Kanye…who the fuck wants to listen to her? It's a fair point," she admits. "I get it. But now that you're here, we're gonna really talk about slut shaming. I really want you guys to sit down and think about the act that your mother had to do with your father in order to have you. Really, fully understand that your mother is a sexual being. Is she a ho?"
Girl, you landed an interview and a naked photoshoot with GQ after coming on the scene as a stripper turned rappers' girlfriend.  You flipped it into acting (which you're pretty good at), books and slut walks.  Count your blessings.
Amber's story appears in this Taylor Swift issue...
Here'a another slam.... 
Zendaya covers the latest issue of Modeliste Magazine where she reveals her style secrets, beauty favorites, her love of travel (especially to Puerto Vallarta) and how she remains the ultimate cool girl. Normal magazine stuff.....except.....Zendaya feels like the magazine altered her looks. Exhibit A: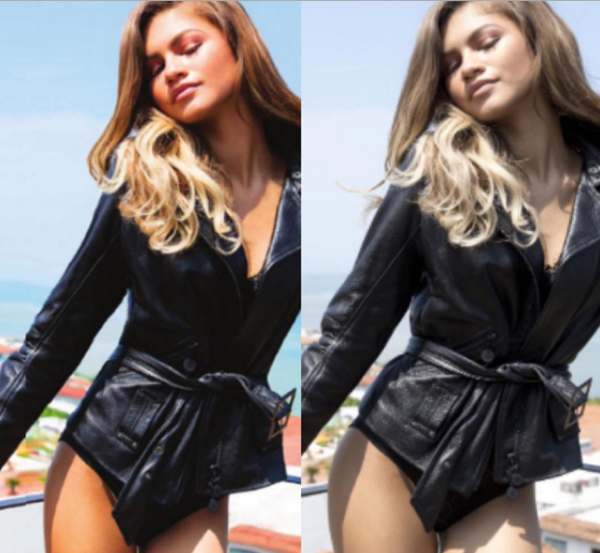 The photo on the left was manipulated by the magazine while the pic on the right is the real deal.  Notice how the magazine SLIMMED Zendaya all the way down. Chick is already extremely slim.  Ms. Coleman expressed her anger on Instagram saying:
"I had a new shoot come out today and was shocked when I found my 19 year old hips and torso quite manipulated. These are the things that make women self conscious, that create the unrealistic ideals of beauty that we have. Anyone who knows who I am knows I stand for honest and pure self love. So I took it upon myself to release the real pic (right side) and I love it Thank you @modelistemagazine for pulling down the images and fixing this retouch issue."
For their part, the magazine removed the "retouched" pics from their social media platforms - but only after they got called out!  Keep speaking up 'Daya!
Photos via GQ/Amber Rose IG/Zendaya's IG/Robert Maxwell