Rihanna will appear on "The Voice" in a few days and we've got the promo trailer inside.  Also, check out Oprah Winfrey getting biblical with Stephen Colbert on "The Late Show."
Get ready for Rihanna overdrive.  In addition to prepping for the release of her 8th studio album, ANTI, Rihanna is hitting up "The Voice" on October 26th where she will act as an advisor. NBC uploaded a ton of funny clips where we really get to see Riri's personality shine through. 
Watch the vids below as she jokes with the contestants and throws a few sassy one-liners.
Rihanna will also perform at The Victoria's Secret Fashion Show on Dec. 8th on CBS.
On late night televison...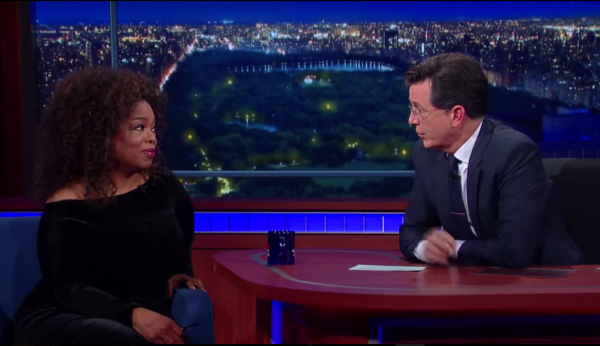 Oprah Winfrey appeared on "The Late Show with Stephen Colbert" last night where she touted her OWN mini-series"Belief." During their chat, Oprah and Stephen Colbert talked about the meaning of faith and belief and even dished on their favorite bible verses
During one profound moment, Oprah said "You cannot be in the world without believing in something.  Even if you don't call it a deity."
Then Oprah talked about her childhood, revealing that she was known as "the preacher girl" because of her ability to recite Bible verses. Check out the chat here....