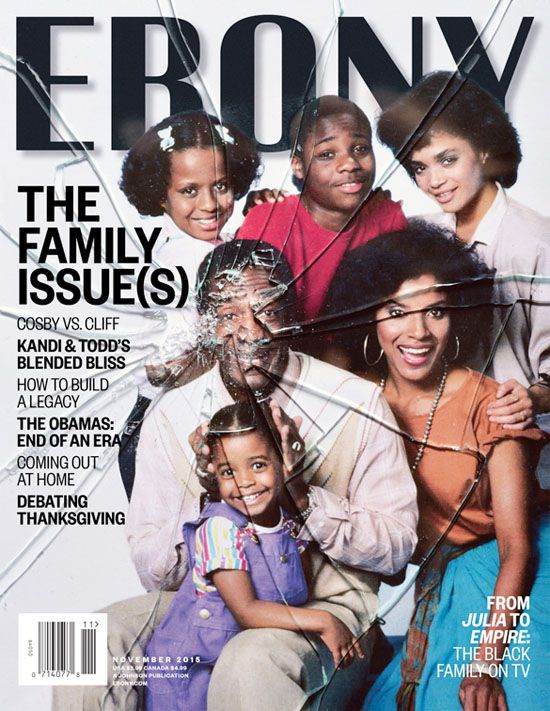 This month's cover of EBONY magazine will surely have you talking. Let's discuss inside….
EBONY magazine is touching a nerve with their newest magazine cover. And it's definitely one to get the conversation on social media going.
For EBONY's November 2015 issue, the publication will be touching on everything about the Black Family, the ups, the downs...everything. So who do they choose to put on the cover? "The Cosby Show." But it's the way the photo is edited that has some up in arms…and some bestowing its praises.
A throwback promo shot of Bill Cosby, Phylicia Rashad, Lisa Bonet, Malcolm-Jamal Warner, Tempestt Bledsoe and Keshia Knight Pulliam was used as the cover…but it's shattered…as if to symbolize a family that was once a powerful force is now broken. In the November cover story, Cliff-hanger, Daily Beast editor-at-large Goldie Taylor, explores the intensely complicated relationship between the fallen icon, his beloved character and the broken hearts of Black America. The issue will also touch on tips for how Black families can best support an LGBT loved one, a loving reflection on the Obama family and a celebration of RHOA's Kandi Burruss and Todd Tucker's blended family bliss and more.
Back to the cover...
Some folks are calling the cover EPIC while others feel the cover is in poor taste. Some feel that what Bill Cosby did in his personal life had NOTHING to do with the "Cosby Show" and should not taint everything the show accomplished. Remember, this was an iconic family in the black community. A black family tha was once shown in a positive light during the Reagan era, when the war on drugs and the plagues of crack cocaine and AIDS were destroying the black community now considered a broken home because of one man's mistakes. Others feel, Bill (and apparently the show) deserves the negative attention due to him feeling entitled to allegedly have sex with women without their consent.
So we want to hear from you. SHOULD the Huxtables be brought down due to Bill Cosby's alleged sex scandal or should the show still be held in the same regards as it once was held within the black community?
SPEAK ON IT!
Photo: EBONY magazine