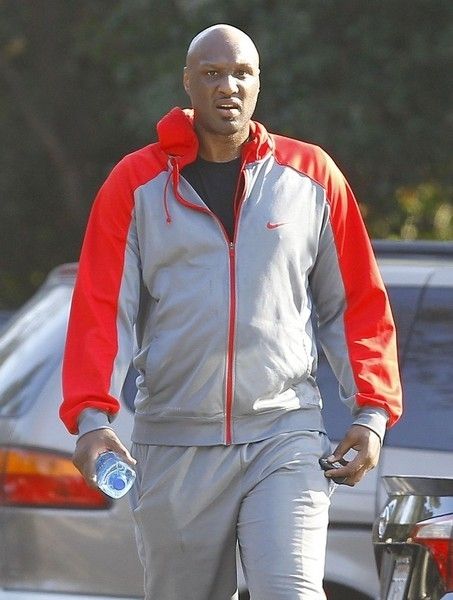 We've got more updates about Lamar Odom's situation as one of his most vocal mentors is calling out the publicity-seeking folks camped around his bedside.  More inside...
We are closeely monitoring the Lamar Odom situation, which we began reporting on earlier this week.  To catch you up to speed, Lamar was found unresponsive in a Nevada brothel called the "Cathouse" with fluids running from his nose and mouth.  He was taken to Las Vegas' Sunrise Hospital where sources said it "did not look good" and he'd suffered severe organ failure, brain damage and is on a ventilator.  See that posting here.
Since the tragic event happened, the Kardashians (Khloe, Kim and Kris) have rushed to Lamar's bedside....and they were followed by tons of paparazzi. 
Lamar's ex-teammate Kobe Bryant also flocked to his bedside.  Now....here's were it gets messy.  Rapper Master P says he's been a mentor to Lamar for many years and he does not trust the sincerity of any of the people we just mentioned. 
In a video captured and posted by TMZ, Master P GOES IN on Kobe, calling him a "phony" who could have saved Lamar from his path of destruction.  He says all Lamar ever wanted to do was play basketball and Kobe could have snapped his fingers and made that happen...but he didn't.
Master P also claims that the Kardashian family got Lamar blackballed from the NBA.  How so?  There was a time when the NBA didn't want anything to do with the Kardashians.  My my my.....how times have changed. 
Watch Master P go "off" about Kobe Bryant and The Kardashians below:
In other updates, we've learned that Lamar's baby momma (the one he dumped to marry Khloe) Liza Morales has arrived in Las Vegas with their daughter Destiny (17) and son Lamar Jr. (13).  The Daily Mail is reporting that Khloe paid for their tickets!  Did she do that because Lamar isn't taking care of the family he left behind?  See pictures of Liza and the kids arriving here. 
We've also seen that Lamar's father went to the hospital too.  After his visit, he was spotted at a local "big and tall" store buying a suit?  Ummm.....why is Lamar's daddy buying a suit?  See those pics here.
Meanwhile, Rev. Jesse Jackson told the NY Post"He's got tubes in him now, but we felt inspired by his presence.  We're just holding hands and hoping he can bounce back."
Story developing....
Photos via Fame