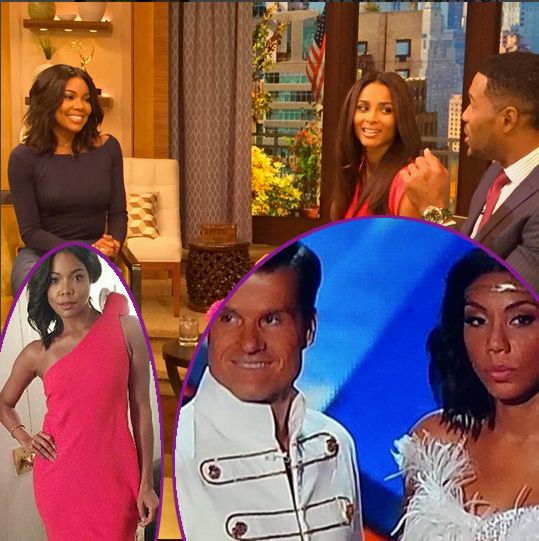 Gabrielle Union and Tamar Braxton have ben taking over our TV screens.  Check out Gabby gushing over Ciara& Russell's relationship, plus Tamar Braxton's major samba on DWTS...
Yes, she always looks perfect and yes, we're kinda jealous.  "Being Mary Jane" star Gabrielle Union made her way to "Live with Kelly & Michael" this morning where Ciara filled in for Kelly Ripa as guest co-host.
The two YBF chicks did a little girl talk about their relationships as Gabby told CiCi she thought she and Russell were "so cute" as a couple.  Apparently she ran into them backstage at an Awards show and said,"I'm here for all of this."  Aren't we all?
Michael Strahan called both ladies GOALS.  Agreed.
Check out Gabby talking about Dwyane planning their anniversary trip to Bora Bora, which was all a surprise to her.  And both Ciara and Gabby exchanging "Your relationship is so cute" words below:
Also last night, Gabby came through in all red to hit up "The Tonight Show with Jimmy Fallon":
Gorge.  She dished on swimming with pigs on a 4-way vacay trip with Carmelo & LaLa Anthony, Chris and Jada Paul, and LeBron & Savannah James...and it was all Bron's idea.
Check out the video below:
Also last night, Tamar Braxton tapped into her inner Sasha Fierce and slayed the DWTS dance floor for her Samba routine to "End Of Time".  This was Swap week where all contestants got a new professional partner for the week.
Some may say it wasn't her cleanest routine she's done so far, but she did damn good considering she had 1 week to learn one of the toughest and longest dances so far...and with a brand new partner. We think her scores were lowballed (29 out of 40)...but she's still in there nonetheless.
Here's the video:
Congrats Tamar!
EXTRAS:
1.  Denzel Washington to direct "Greys Anatomy" episode.  http://bit.ly/1R9pYcV ">STORY