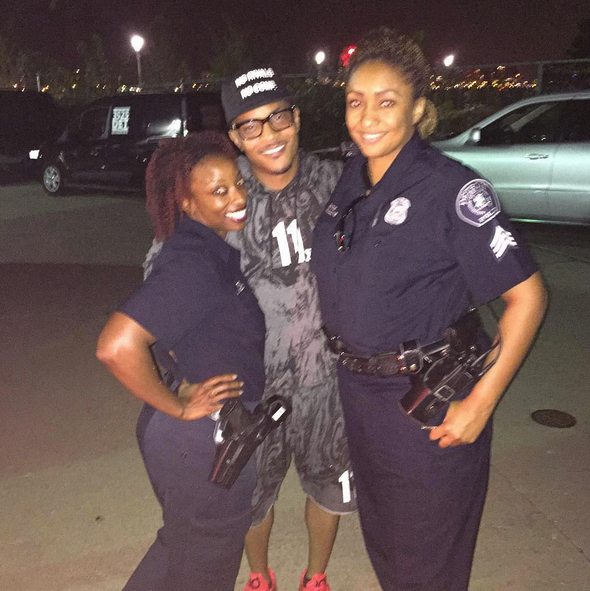 T.I. found himself making headlines and catching negative backlash after making comments that he would not vote for a woman president in fear of "rash emotional decisions." Hmpfh. Check out his apology and peep "Watermelondrea" read Raven-Symone for filth inside….
We can all agree T.I. is no stranger to controversy. So we were caught by surprise when we heard him say he wouldn't vote for a woman to become POTUS out of fear that she would make "rash emotional decisions."
In a recent interview with DJ Whoo Kid, the Grand Hustle general addressed Hilary Clinton running for president which resulted in some rather sexist commentary. Tip said the world isn't ready for a female president and that we may as well elect the Lochness Monster before electing a woman for presidency. Say what?
His exact words were:
"Not to be sexist but, I can't vote for the leader of the free world to be a woman," he said. "Just because, every other position that exists, I think a woman could do well. But the president? It's kinda like, I just know that women make rash decisions emotionally – they make very permanent, cemented decisions – and then later, it's kind of like it didn't happen, or they didn't mean for it to happen. And I sure would hate to just set off a nuke. [Other leaders] will not be able to negotiate the right kinds of foreign policy; the world ain't ready yet. I think you might be able to the Lochness Monster elected before you could [get a woman]."
Is this not the same man who made the emotional and rash decision to buy and carry an ARSENAL of weapons right after he got out of jail? Which got him sent right back to jail? Oh…ok.
Not only that, he semi-endorsed presidential hopeful Donald Trump for the spot. While he said Trump could possibly be beneficial for the economy, he won't be voting for him. He said,
"He's interesting and I feel his the best showman of them all. And I do feel that if he is sincerely concerned about the economy of America and the working public, he would be the best person to flip the money that we have […] But you know, his racist remarks and all of his off-color statements and all that s**t it makes it impossible to be completely supportive of him. But just knowing what he's done for business for himself, if he intends to do that for America, it would be beneficial. But I can't cast no vote for him."
Sighs….
Anyhoo, Tip started catching some heat over the sexist remarks and decided to issue an apology via his Twitter this AM:
Oh Tip....
Peep his interview with DJ Whoo Kid below (at the 13:28 mark):
In other news....
Following Raven-Symone's public apology, comedian Tre Melvin aka Watermelondrea has some words for Ms. Raven-Symone over her "ghetto" name shaming. In a nutshell, Raven was read for filth honey. Catch it above.
Photo: T.I.'s IG