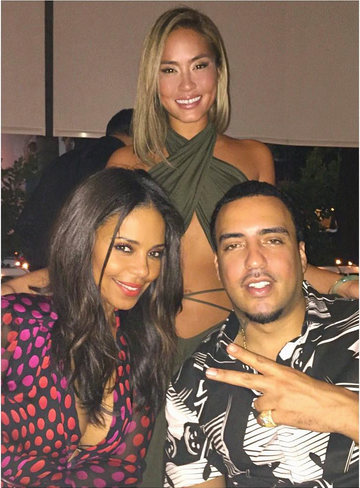 Sanaa Lathan and French Montana were both at a mutual friend's surprise birthday dinner last night.  Check out the twosome -- who've been rumored to be more than friends -- posing for a pic....
We're not totally clear on what's going on between Perfect Guy star Sanaa Lathan and rapper French Montana.  They had this boozy encounter in the back of Diddy's car, they were spotted having a dinner date a short time after, and now there's this pic together (snapped by "Wags" star and Sanaa's friend Nicole Williams) at a friend's dinner.  Could their pic together simply be just two friends celebrating with the birthday girl?  Maybe...
In between Sanaa and French's "dates," "Rich Kids of Beverly Hills" star and billionairess Dorothy Wang has been spotted hanging with French on his tour.  The rapper and the heiress have had their fair share of dinner dates as well.
So, who knows.
Check out video of French and Sanaa singing Happy Birthday to their friend Tamie below:
Photo/Video: @justtnic's IG