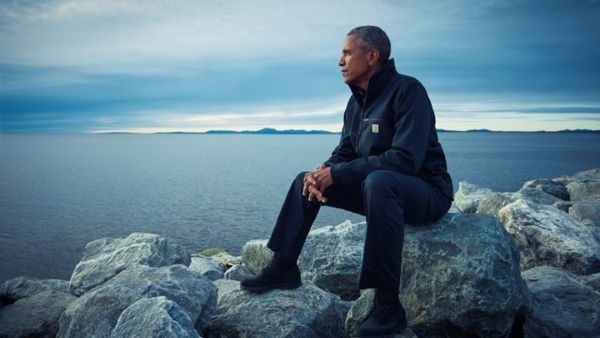 President Obama covers the latest issue of ROLLING STONE where he opened up about the world's climate crisis and why he thinks America should take on a leading role in global talks. More inside...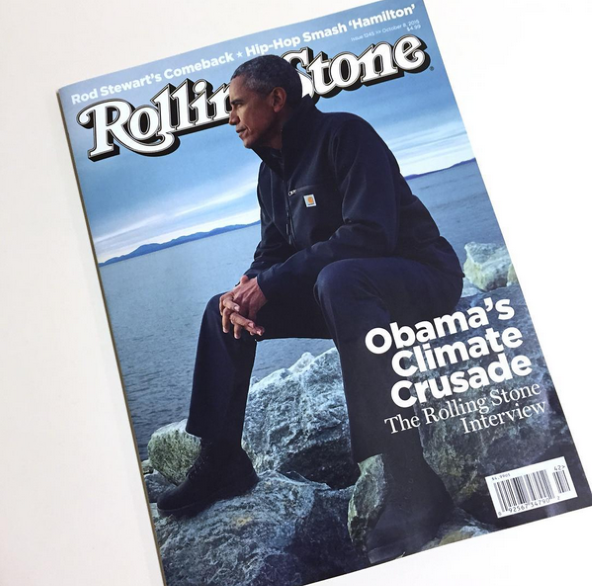 Obama is a rolling stone, but in a good way.
We've got a sneak peek at next month's ROLLING STONE which features a photo of the POTUS in Kotzebue, Alaska, a place he visted to highlight the effects of climate change on the environment (see previous post here about the Alaska trip).
"Climate change is no longer some far-off problem; it is happening here, it is happening now," he told the mag, "we will condemn our children to a planet beyond their capacity to repair: submerged countries, abandoned cities, fields no longer growing."
The President's push to make Americans aware of the climate crisis marks the beginning of what may be the last big project of his administration.
While the Obama administration has had victories in terms of health care, the economy, gay marriage and immigration, pushing climate reform and awareness would really shape his legacy in a positive way.
"The president is entirely focused on this goal," one of his aides told ROLLING STONE. "If you think about who has been in the forefront of pushing global climate action forward, nobody is in Obama's league," says John Podesta, a former special adviser to Obama.
The magazine sat down with the President for three hours to discuss his trip to the Last Frontier and the steps he hopes to take before December's international climate conference in Paris. Here are the highlights:
On climate change and the "oh, shit" moment when he realized what's at stake.
Well, I did grow up in Hawaii. And the way that you grow up in Hawaii is probably surprisingly similar to the way some folks grew up here in the Arctic Circle. There are traditions that are very close to the land — in Hawaii, the water — and you have an intimate awareness of how fragile ecosystems can be. There are coral reefs in Hawaii that, when I was growing up, were lush and full of fish, that now, if you go back, are not.

And so I don't think that there was a eureka moment. In my early speeches in 2007-2008, we were already talking about this and making it a prominent issue. What's happened during my presidency is each time I get a scientific report, I'm made aware that we have less time than we thought, that this is happening faster than we thought. And what that does for me is to say that we have to ring the alarm louder, faster. But, as I said, the good news is that the kind of complete skepticism you had around the science that you saw even two or three years ago, I think, has been so overwhelmed — that we kind of cleared out that underbrush.

How would you compare the challenges and the risk to America's security regarding climate change to, say, ISIS or, for that matter, Iran?
Well, they're different. And as president and commander in chief, I don't have the luxury of selecting one issue versus the other. They're all major problems. What we know about climate change, though, is that with increasing drought, increasing floods, increasing erosion of coastlines, that's going to impact agriculture; it's going to increase scarcity in parts of the world; it is going to result in displacement of large numbers of people.

But that's the kind of national-security challenge that we're looking at with climate change. It will manifest itself in different ways, but what we know from human history is that when large populations are put under severe strain, then they react badly. And that can be expressed in terms of nationalism; it can be expressed in terms of war; it can be expressed in terms of xenophobia and nativism; it can be expressed in terms of terrorism. But the whole package is one that we should be wanting to avoid, if at all possible.
Read the full interview here.
More climate talks....
This week, the Pope visited the Obamas at the White House where he also chimed in about climate change (among other world issues) during their meeting.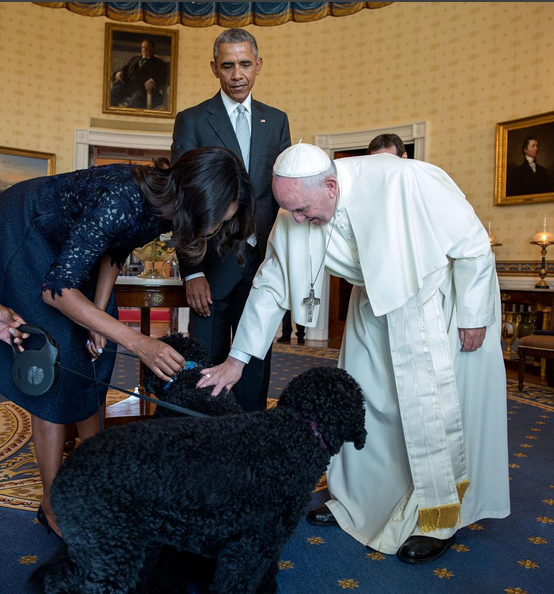 According to a press release from the White House, Pope Francis (pictured above meeting First Dogs Bo and Sunny) said, "When it comes to the care of our common home, we are living at a critical moment of history. We still have time to make the change needed to bring about a sustainable and integral development, for we know that things can change."
Go behind the scenes of the POTUS climate change article here: 
Photos via White House Instagram/Rolling Stone IG