Ciara hit up the COACH runway show yesterday in all Coach everything. Afterwards, she chopped it up with Andy Cohen in the "WWHL" clubhouse where she touched on her "beef" with Monica and rumors about her controlling what the Seahawks' DJ plays (when it comes to her baby's daddy Future). Get it all inside...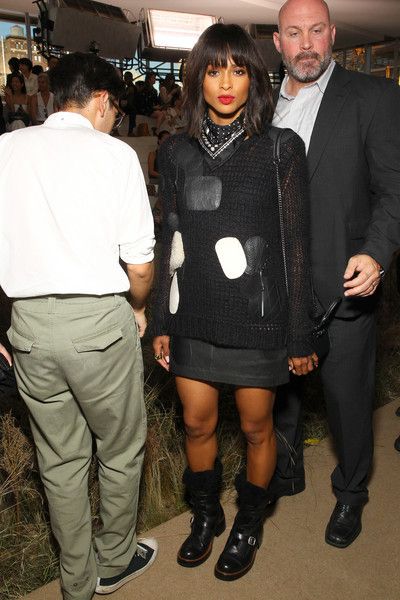 Ciara doesn't show any signs of slowing down at New York Fashion Week. The YBF chick popped up at the COACH Women's Spring 2016 runway show held outside at the Highline yesterday, drenched in the designer's threads.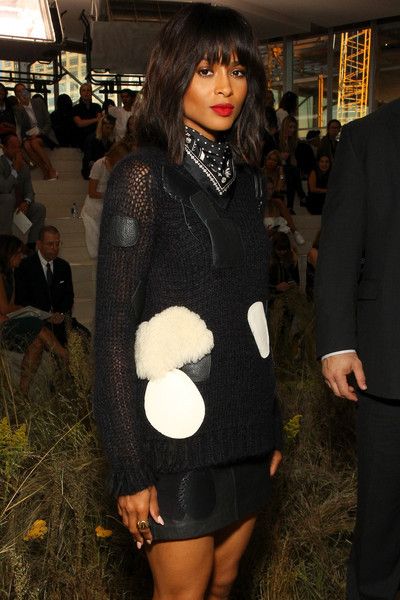 The JACKIE singer hit up the runway show in a patchwork black and white sweater with a high neckline paired with a black leather skirt and black boots. We feelin' it?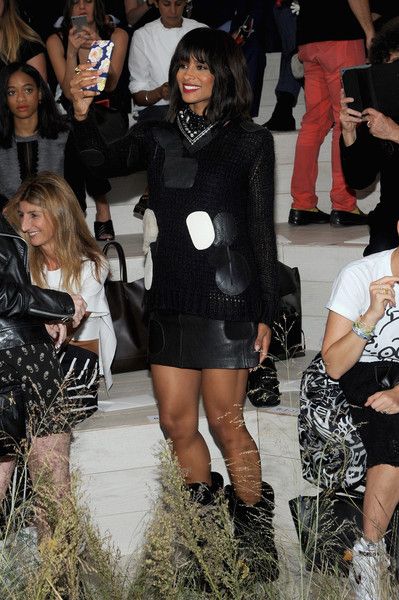 During the show, CiCi made sure to snap a few flicks of her favorite designs.
Backstage...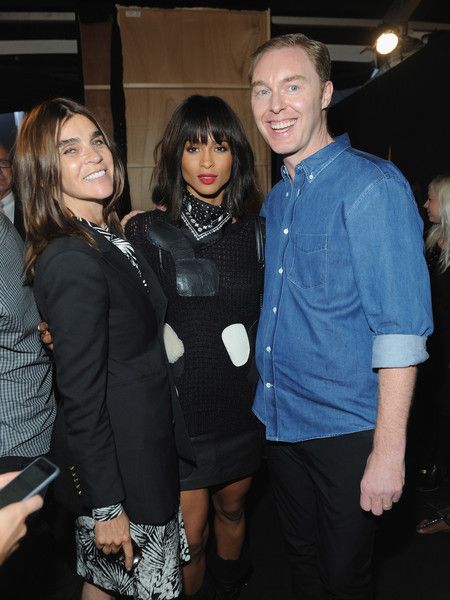 The fab mom snapped it up with CR Fashion Book Editor-in-Chief Carine Roitfeld and COACH Executive Creative Director Stuart Vevers.
Over on Instagram, the R&B singer showed off in a few flicks modeling her COACH ensemble:
Nice!
After the show...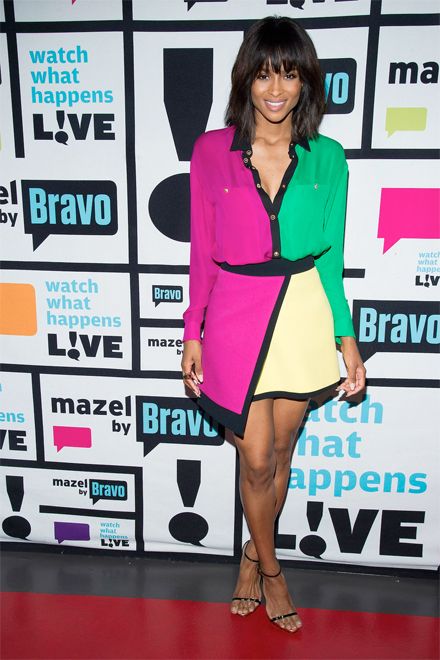 CiCi changed into a color blocked Fausto Puglisi dress that she paired with Giuseppe Zanotti sandals and trekked it to the "Watch What Happens Live" clubhouse. We feelin' her look?
Ciara, who was joined on the show by "The View" co-host Joy Behar, sat down with Andy Cohan to talk about life as the girlfriend of a major football player. But before she started gushing about Russell Wilson, a viewer called in with a question asking her to address her "beef" with fellow R&B songstress Monica.
You'll recall, Monica recently revealed she and CiCi's relationship went sour after a falling out and never cleared the air. (Get all the deets HERE). But Ciara didn't want to discuss it…at all. Here's what she said,
"I just don't have time for no drama so I can't even address that question."
Well that's that.
 
There has also been talk about Russell and Ciara controlling what the Seattle Seahawks' DJ plays during practices and pregame warmups. In an interview with Billboard magazine, DJ DV One said he feels uncomfortable playing Future's music out of respect for the star quarterback. He said,
This year, I've been getting a lot of requests for Future. But that dynamic is weird too, because I can barely play Future with Ciara running around and that's her baby's dad. It's just that he has a dope-ass album out right now, players like to hear it, it definitely gets you pumped up — even though it's low-tempo, it's still stuff that you want to hear — and then you've got Ciara running up with little baby Future and she's dating Russell so it's like, "Oh f---."
 
A caller asked Ciara what she thought about what he said and here's her response:
"I think the people wanted to blow his statement out of proportion. No one's trying to control the DJ, so that's basically what I have to say about that."
 
Hmph.
We all know Ciara and Russell are waiting to have sex, so she was asked...how do they keep it HOT without actually engaging in the act? She responded,
"He's so beautiful. It's so many great things about him that keep me intrigued. I think what's so cool about it is that it allows us to create a foundation and a friendship with each other. And I really believe, we both believe that if we can get that strong then we can conquer anything with our love. That's the mission. Let me just say, it's hard now. He's so beautiful."
Aww...
So is there any possibility of the twosome displaying their love on a reality show? She simply said, "No, absolutely not."
Check out the clips from her sit down last night below:
Photos: Getty/Ciara's IG/Coach's IG/@csquared_eur