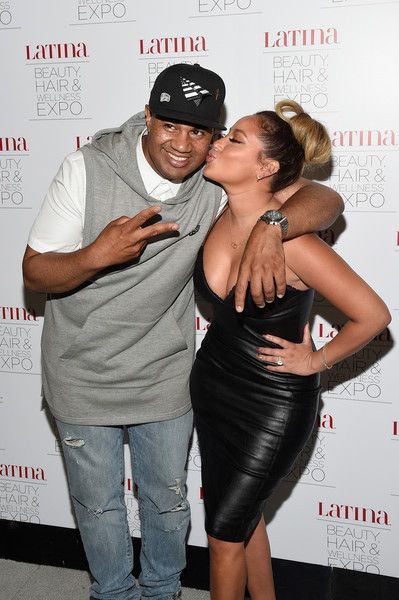 Well, that de-escalated quickly.  Adrienne Bailon and Lenny Santiago have called off their engagement.  Find out why their 6-year relationship is ending inside...
Oh no!  After all the hoopla surrounding Adrienne Bailon getting engaged, she and Lenny Santiago have called it all off. 
Seven months ago, Adrienne's 44-year-old boyfriend and Roc Nation exec Lenny proposed.  Interestingly, the 31-year-oldrevealed on her talk show "The Real" that she became obsessed with asking him questions about his first wedding with his first wife, but Lenny would never give up the deets.
Now, after her "Eat, Pray, Love" tour this summer, Adrienne says she had to be honest and true to herself. 
The two, who haven't been seen together since July, seemed quite happy after the engagement finally happened after dating for six years.  So, it's a bit of a shocker that the engagement has been called off.  The singer/talk show host tellsUs Magazine that things simply didn't go as planned:
"I am, of course, sad that things didn't go as we planned, but we still remain close friends.  Six years is a long time to be together, but we had to make the decision to go with our hearts and not be embarrassed or afraid of change. He absolutely helped make me a better person and I will forever cherish the time we shared together."
She went on to say she has learned some hard life lessons, and she's looking forward to sharing them.
"Right now I am taking time for myself and I'm glad to be back at work with my favorite ladies and the incredible crew of The Real. Life lessons are hard but I'm grateful that I have a platform to share my journey and hopefully encourage, inspire, or just let women know they are not alone and to never give up on finding love. I still believe. I feel so blessed and excited for the new season of The Real and I truly appreciate the support from everyone!"
Well, Adrienne WILL be discussing it all on "The Real."  On tomorrow's show, she will confirm that the couple's engagement is over, she hopes that she and Lenny will remain friends forever. In the sneak peek below, she reveals:
It was a hard decision to make when you're with somebody for such a long time. I think, as women, we have a hard time with change. It was hard for me, but you have to be true to yourself. You have to be honest with yourself. And I think having time on my own gave me that.
Check out the video below:
Photos: Getty