Toni Braxton is set to turn her memoir Un-Break My Heart into a LIFETIME biopic.  More deets inside....
If you loved how LIFETIME handled the life stories of Aaliyah, Whitney Houston and the creations of Full House and Saved By The Bell, then we've got some good news for you....
R&B icon Toni Braxton has given the network the greenlight to air an upcoming biopic based on her bestselling memoir Un-Break My Heart. We're intrigued...

We were tipped off about the news thanks to a LIFETIME press release that revealed that Toni will serve as the film's executive producer (smart move) and the network will be sending out casting notices very soon. While some sites are reporting Toni will be appearing in the movie, this was not confirmed by Lifetime's press release.
Then, we got a little nervous......
Going back to the Aaliyah movie and even the Whitney Houston biopic, you know how LIFETIME gets when it comes to "casting." Pretty much anyone who shows up to the casting call in Newark, NJ has a shot. Thankfully, it worked out for the Whitney movie because YaYa Dacosta was everything.  But as for the others...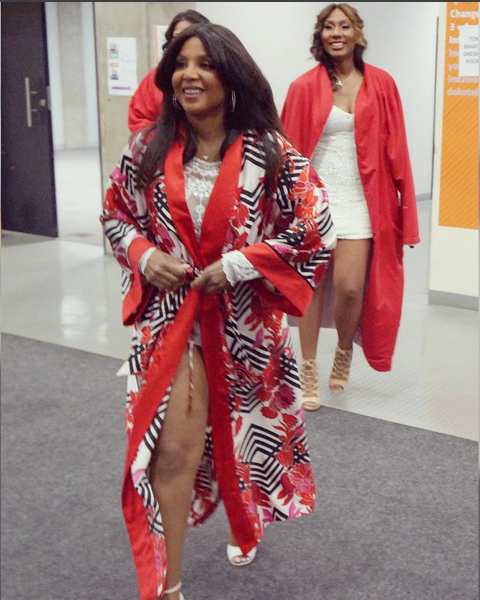 For all we know, they might cast Blac Chyna to play Toni. Here's the network's synopsis:
Based on Grammy® Award-winning singer Toni Braxton's popular memoir, Un-Break My Heart is the authorized life story of the wildly talented artist, who has fought through a severe chronic illness, financial troubles and divorce while navigating her son's autism and family struggles. Un-Break My Heart is the never-before-told story of the measures Braxton took to make herself and her family whole again, serving as an inspiration to people around the world. Braxton will executive produce the film, which begins production later this year. Un-Break My Heart is also executive produced by Craig Baumgarten (Twist of Faith), Erik Kritzer (The Runaround) and Marcus Grant, written by Susan McMartin (Mom, Two and a Half Men) and produced by Link Entertainment. Vondie Curtis Hall (Abducted: The Carlina White Story) will direct.
HOPEFULLY......the network does right by Toni and casts a fabulous actress. We wouldn't mind seeing YaYa again....just saying.
By the way, Toni is currently abroad on her sold-out TONI BRAXTON LIVE tour dates in Australia and New Zealand.
EXTRAS:
1.  Seattle Seahawks DJ faces a dilemma....he says he's having trouble deciding if he should play Future or Ciara's music during games.  Sighs. Story.
Photos via Toni's Instagram/Sunshine Sachs