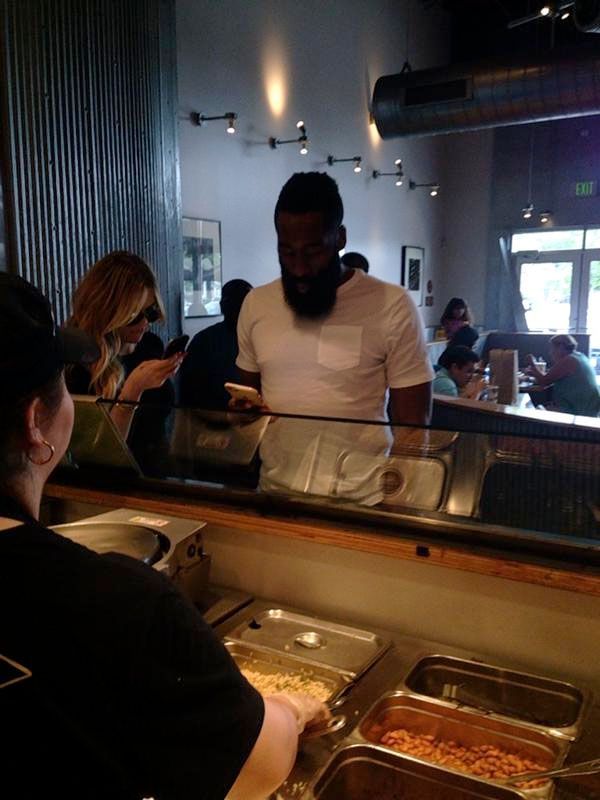 After her run-in with her ex-husband Lamar Odom, Khloe Kardashian hopped on a private jet to link up with her rumored boo James Harden. Peep pics of the twosome grabbing a bite to eat inside….
"You just run, to the arms of the one who loves you" – Xscape
That's exactly what Khloe Kardashian did. After her run-in with her ex-husband Lamar Odom Wednesday morning, the 31-year-old reality star hopped on a private jet to Houston. And what do you know, she landed right in the arms of her rumored NBA baller beau James Harden.
The twosome was in the mood for some Mexican cuisine, so they hit up fast food chain Chipotle in Houston yesterday. While inside, a few fans were able to snap a few pics them as they ordered their food:
ebonyfaire: When you wondering why the line is taking so long at Chipotle and you look up and see ... pic.twitter.com/gfgADsNYb3

— Khloé K News (@itsohsokhloe) August 13, 2015
Khloe kardashian at my job today pic.twitter.com/qCe5tjC8Fz

— R.N (@rennizzlexo) August 13, 2015
Look who's here!! @khloekardashianpic.twitter.com/eclmzWXfPB

— Jose NAF (@FlakoTaco) August 13, 2015
Khloe kardashian and James harden spotted in Houston pic.twitter.com/4FCvj8E7cN

— Holli Walkaa ✌ (@holli_walkaaa) August 13, 2015
ayayahelsaleh: Totally just saw James Harden and Khloe causally walk out of chipotle pic.twitter.com/67bKFYlVii

— Khloé K News (@itsohsokhloe) August 13, 2015
And a few days ago...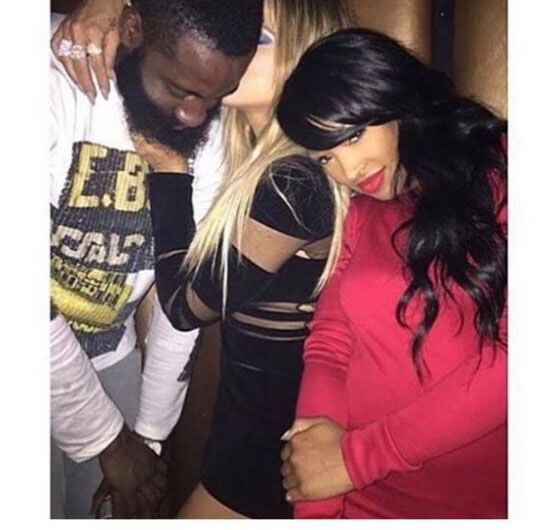 Khloe's bestie Malika Haqq posted a pic of Khloe kissing on James after celebrating with her sister Kylie for her 18th birthday.
These two can't seem to get enough of one another. Last week, Khloe was on the sidelines cheering James on while he played in the "Drew League" game in L.A. Before that, the rumored couple was spotted hanging out together in Las Vegas and they've hit up a spin class together. Plus, they were spotted on a dinner date in Calabasas a few weeks ago.
Now…about that alleged "ambush"....
Sources on the scene told TMZ that Lamar popped up on her as she was walking inside SoulCycle for an early morning workout They're saying he was screaming and yelling at her and he grabbed her arm. It's reported Khloe screamed as she tried to get away from him and was totally freaked out by the incident. But Lamar is singing a different tune.
Lamar caught up with TMZ photogs yesterday totell his side and he said he did NOT harass, grab or scream at her. He also said they planned to meet up at that time and he was not stalking her. The former NBA star said he's fed up with the lies and if they continue, he plans on airing out EVERYTHING. We'll be sure to have a coffee mug ready if/when he does.
 
Photos: Malika's iG/@itsohsokhloe/@rennizzlexo/@FlackoTaco/@ayayaheisaleh