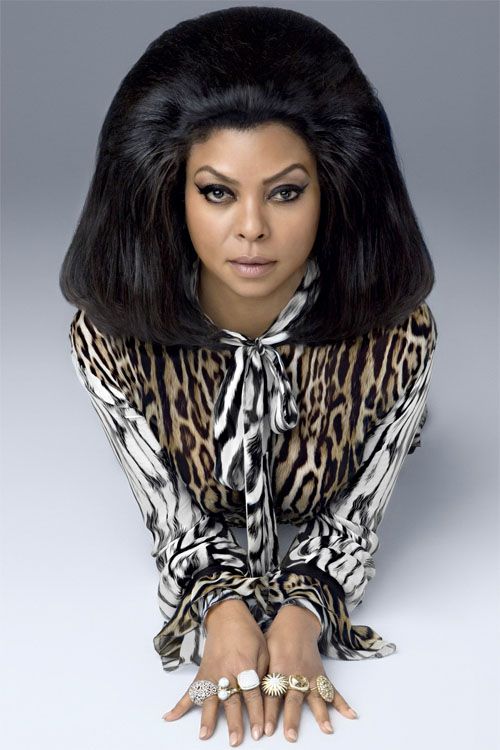 Meow! Taraji P. Henson is paying homage to her leopard print loving "Empire" character Cookie Lyon in Harpers Bazaar's September 2015 issue - with a '60s inspired twist. Come inside to see her slay-worthy editorial.
One thing is for sure…Taraji P. Henson sure knows how to slay a magazine spread. The "Empire" breakout star has landed on pages in Harpers Bazaar's September 2015 issue with a hot new spread inspired by fashion icon Jacqueline de Ribes in the '60s. But, she's also paying homage to her leopard print loving character "Cookie Lyon." Y'all know Cookie loves her animal prints.
Shot by fashion photographer Michael Avedon, Taraji works her magic in an array of animal print ensembles, while rocking Roberto Cavalli, Dolce & Gabbana and Banana Republic.
Although she's considered a fashionista these days (and rightfully so), she said it took her awhile to hop on the "chic bus." She explained, "It took me a minute to get on the chic bus," she says. "I was coming from the era of Lil' Kim and Mary J. Blige, you know, ghetto fabulous. I came from nothing, was deprived all my life, so when you get money, you go big!"
Nowadays, she said her closet is filled with black, thanks to tidbits she received from her publicist, "You should see my closet now—black, black, black." And unlike Cookie, she no longer wears leopard in her everyday life. "I don't wear leopard anymore, not since I got Cookie." We assume she gave Cookie all of her animal print pieces as a few of her personal pieces have become a part of Cookie's elaborate style….but her favorite? "Alaïa black catsuit, hands down," said Taraji.
Now, we know where Cookie gets her fashion inspiration, but what about that slick mouth, no holds barred attitude? The EMMY nominated actress (she's up for Lead Actress in a Drama Series) said she based on her father.
"He had no buffer. He spoke the truth." She continues, heating up. "It's heroic because in this society we have been trained to be politically correct. Political correctness is bullshit. If I ask you a question right now, the first thing that comes in your mind is the truth. But we've all been trained to breathe, digest the question, and manipulate the answer. Cookie doesn't do that."
And that's one of the reasons why we love her. Straight talk, NO chaser!
The 44-year-old star is currently single, but she definitely has a type. She described him as:
"He is funny, has personality, he doesn't take himself too seriously. He needs to be confident in who he is, confident to let me be who I am. And let me shine, you know? My light is only going to enhance his light."

 
She then talked how her 21-year-old son Marcell is handling her newfound stardom and how he's very cautious about meeting new people:
"My dad said to him, 'People are going to try to be your friend because of what your mother does.' That stuck. Even guys who try to be a mentor to him—because, you know, his father was murdered when Marcell was nine—so I was very particular about not dating." She pauses. "I don't want to just bring a man around. Marcell knows how to gauge, Are you here for me, or do you like my mother?"
Smart young man.
Check out Taraji's other animalistic glam shots below: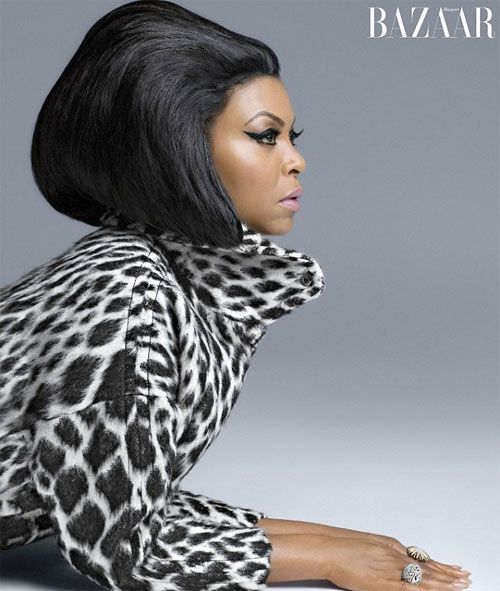 Banana Republic jacket, David Yurman rings and Pomellato rings.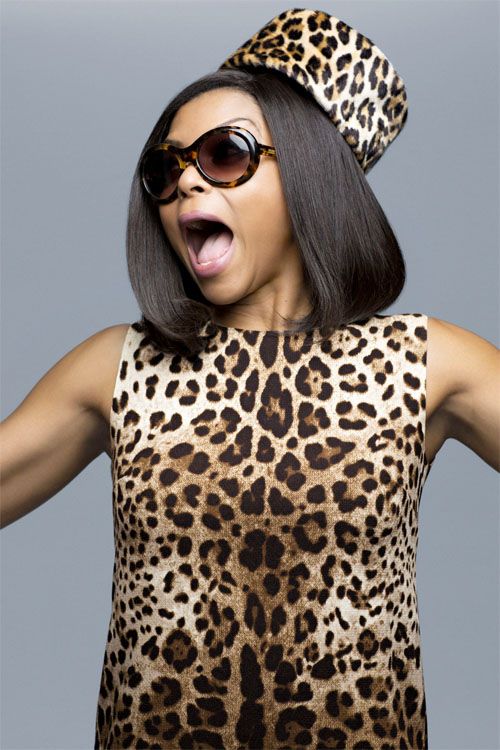 Dolce & Gabbana dress, Early Halloween hat, Oliver Goldsmith Sunglasses.
FAB!
"EMPIRE" returns September 23rd at 9/8c on FOX.
Photos: Michael Avedon via Harpers Bazaar