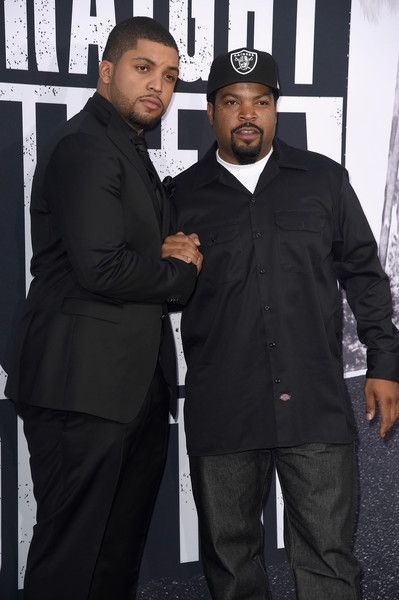 TheYBF.com got the chance to chop it up with rap legend and film maker Ice Cube, his son O'Shea Jackson Jr, and more at the Hollywood red carpet premiere...
Come inside to catch the gems they dropped, plus N.W.A.'s Billboard magazine cover inside... 
Get ready for a roller coaster ride through Compton with N.W.A. as they journey from "boys in the hood" to mega stars who dominated the airwaves during the Golden Era of Hip Hop with their gritty lyrics and "gangsta" personas. STRAIGHT OUTTA COMPTON tells the tale of how a few friends became rap icons by sharing their experiences of what life was life in their city growing up in poverty.
Earlier this week, during the Straight Outta Compton L.A. screening at the Microsoft Theater, YBF correspondent Lauren Smith caught up with one of the film's lead (and cutest) stars O'Shea Jackson Jr. (rocking Zenya and Jason of Beverly Hills) to chop it up with the budding actor about what it was like to portray not only a Hip Hop icon, but the person he calls dad: Ice Cube.  He also dishes on what it was like to land such a major role for his very first acting gig and how he prepared for it.
Below are the highlights:
YBF: Your first major film you're playing an icon which happens to be your father. Tell us about your experience.
OJ: You know, I'm the young guy in the group. I'm still trying to figure everything out and I'm hanging out with the older crowd so that's a parallel with me. I'm the youngest one out of the five of us but I'm new to the acting thing and I'm getting my feet wet as well, so that definitely helped me feel more attached to the role beyond him being my father.
YBF: Was it difficult being chosen for this role?
OJ: He (Ice Cube) brought it to me before there was a script because he knew I had to get a lot of experience in a short amount of time, so it was two years of auditioning. And my acting coaches, they really brought in different techniques to make one great project I feel.
 
So what does Ice Cube want viewers to take from the film?  "Have a good time and see where it all started," he told us. "Understand that we can make movies about our history at a top notch level."
And that they did.
"Basketball Wives: L.A." star and L.A. native Shaunie O'Neal was on the scene to check out the film and to support her man Marlon Yates who stars as The D.O.C
Growing up in a neighboring city and a huge fan of N.W.A., Shaunie says the film caused feelings of nostalgia and all she wanted to do after seeing the film is go home and rock out to some classic N.W.A. tracks.
Switching gears, the "BBW" honcho dished on this season of the show a few deets on a few upcoming projects. Check the highlights below:
YBF: What did you think about the movie?
SO: It's so good. I'm from LA and it brought back so many memories. I went to see it with one of my friends and both of us were nudging each other like 'oooh that was by my neighborhood' and we just wanted to get up and dance the whole time but it is so so good. I've always been a N.W.A. fan. I grew up in LA and all west coast music you're a fan of. You heard so many songs that you don't hear anymore and it made me want to go home and start pumping N.W.A. again.
YBF: Who was your favorite actor in the movie?
SO: Ice Cube's son. He did his dad perfectly. He is the little clone of Ice Cube. He was him all over again. Eazy E did a great job like I wanted to do the slow to fast clap at the end. They did an awesome job. Everybody across the board did a really good job.
YBF: How does the social injustices in the movie resonate today?
SO: It's a lot of similarities. Watching it, even just growing up, police always used to bother the guys back in the day. Gang banging was really big then, at the same time, that was their excuse I guess to really just harass people and knowing what's going on right now and watching the movie… aint s*** change. It's still the same thing. But I think it's an eye opener because you see (men like) Ice cube; they were like our spokesmen for that time and although a lot of people didn't agree about the police and stuff like that it's somethings gotta give. Somebody's got to say something and that was their way of reaching the people and it definitely did. Some of the things I saw in the movie I didn't even know that happened. Certain things, from them performing, I didn't even know took place, so I learned a lot actually. It's a really good story.
YBF: So, what's the latest on this season of "BBW: L.A."
SO: We're getting great numbers. We're doing really well. The reviews are always different. Everybody has their favorite and who they're down with, ride or die, which is fine. So every week it just depends on what's going on. If they like you, if they don't like you, it's whatever.
West coast rapper Kendrick Lamar got the chance of a lifetime. He was chosen to interview legendary rap group and his idols Ice Cube, Dr. Dre, MC Ren and DJ Yella of N.W.A for Billboard magazine.
During their sitdown, the guys dished on how their music totally changed the rap game, the group's powerful influence on pop culture, their thoughts on today's artists and how they juggle their careers and personal lives. Check out the full interview here.
STRAIGHT OUTTA COMPTON hits theaters Friday, August 14th.
Photos: Getty/Billboard