Zoe Saldana is covering the debut issue of Cosmopolitan For Latinas, where she dishes on what it means to be a fierce Latina. See the pics inside....
Columbiana & Avatar actress Zoe Saldana, who was born to a Dominican father and Puerto Rican mother, is red hot on cover of the Latina spinoff of Cosmopolitan magazine.  In the mag, 33-year-old Zoe celebrates her heritage and discusses being a fiery Latina.
Here are the highlights and subscriber cover (below):
On being a Latina: "People think of Latina women as being fiery and fierce, which is usually true. But I think the quality that so many Latinas possess is strength. I'm very proud to have Latin blood."
On being a ballerina in her teens: "I had to quit ballet because it felt like a part of me was dying inside. It takes a lot of courage to face up to things you can't do because we feed ourselves so much denial … In dance you use every party of your body except your voice. I wanted to start acting because I wanted to use my voice."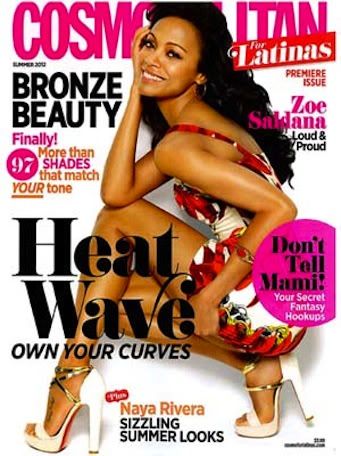 The issue hits stands May 1.  Gorgeous pics.  You feelin' her shoot?