Annnnnnnnnd ACTION!  Kim Kardashian hi-tailed it back to NYC where her new boo Kanye West is at, just one day after she was in his hometown of Chicago doing...you guessed it...promotion for herself and her fam.  And as soon as the paparazzi caught wind of their location and crowds of passersby whipped out their cell phones, the couple ate up the attention.  Not to mention the Kardashian reality show cameras were in tow as well.
Pics of the twosome kiki'ing around Manhattan Saturday afternoon inside....
Dressed in her favorite leather pants and fitted sweatshirt with a hot tan Celine bag and Un Bout Illusion Louboutins, Kim made her second trip to NYC in 2 weeks to kick it with her new lover--Kanye West.
The duo was spotted all smiles downtown while grabbing some ice cream.  Well don't they look so in love.  And by so in love, we mean with the attention.  And maybe with each other.  Would love to know who would win an ego contest between the two.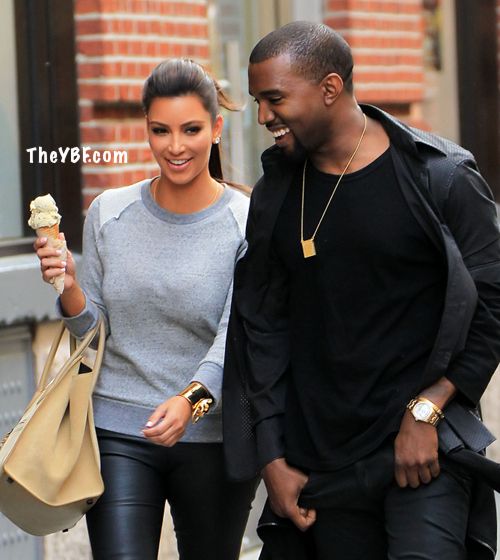 Kanye just returned from Qatar after shooting a musical film--much like his 2010 "Runaway" film--with Kid Cudi.  And according to Life & Style, Kanye was spotted entering Kim's downtown hotel at 1am early Saturday morn, just moments after she checked in.  And they headed to Mercer Kitchen until 3am.  And she reportedly spent the night at 'Ye's place.  Sometimes you just can't wait....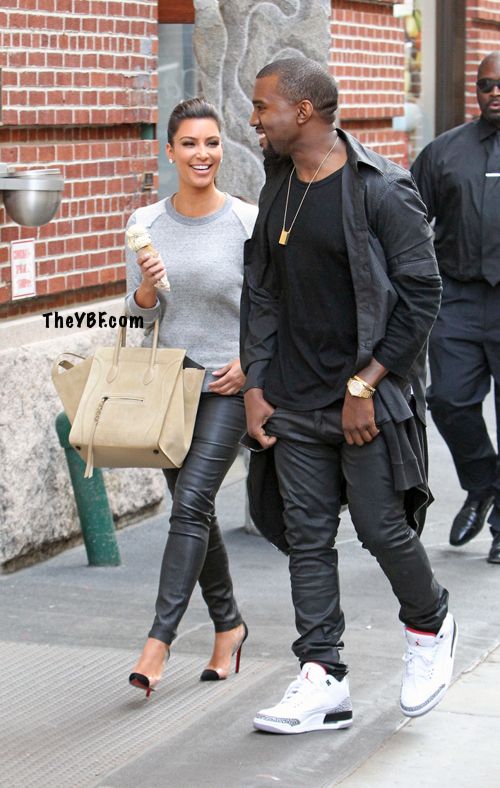 Later on Saturday evening, Kim went to dinner with her sis Khloe & mom Kris Jenner.  There are sure to be more K Dub & KK festivities soon...
Pics via SPLASH