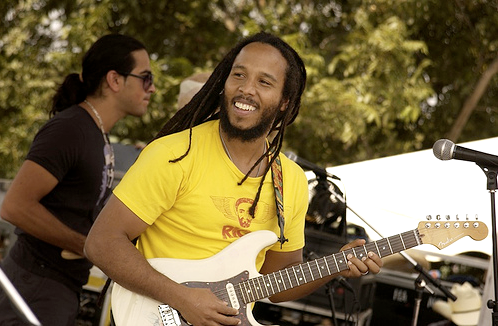 Ziggy Marley, the eldest son of music icon Bob Marley, has produced a new film about the life of his father. Get the deets inside...
In celebration of 4/20 (the actual day AND marijuana), Ziggy Marley has released a new documentary about his father, Bob Marley, appropriately called "Marley."  Directed by Academy Award-winner Kevin Macdonald and executive produced by Ziggy, the bio-doc is the first U.S. film to be released simultaneously in theaters and stream online and features rare footage and performances of the late icon.  
Ziggy recently chatted with Huff Post Blackvoices about the film and his dad's life.  Here are the highlights:
How does it feel to have a film debut in theaters in addition to simultaneously streaming it across digital media platforms such as Facebook?
I think it's cool. It's good to be ahead of the game. It's always good to be doing something fresh. I think that it's a fresh way to putting out the films that I'm involved in.

With this being the first official documentary supported by the Marley family, how much creative input did the family have in the production?

Well, we were involved from the get-go with facilitating everything that was happening in the film, including speaking to people to let them know our involvement with this to ensure that it was cool to talk to this producer. And everyone was being very open because they knew that we were a part of this thing and it wasn't some random person trying to make a film about Bob. They knew that this would be the real deal. And that's how we worked with the producers and the director in the film and just got everything done. And also set the tone on what it should be and give our opinions on the different versions until we reached a final cut.

Was it a marketing ploy to release the film on 4/20, due to your father's association with marijuana?

Yeah, I think 4/20 is a special day. Of course, with our culture we use herb for so many different things not just for smoking. I think it's something that we're not going to hide from, and I think it's appropriate because it's a part of our culture and a part of Bob's music. If you love Bob's music, well guess what, herb is a part of Bob's music.

The film covers an array of topics including Bob's extramarital affairs. In your opinion, did you consider that to be a challenge in projecting?

Not really. We just wanted to make sure that everything remained in perspective. And that in no way anything that we did in terms of that subject would be disrespectful to his wife and our mother. So we had to keep everything in perspective and make sure it was done as respectful as it can be. My mother was very cordial in speaking about it and just telling people the truth about how the relationship was with her and Bob.

 

 
Sounds fascinating.  Check out the full interview over at Black Voices.