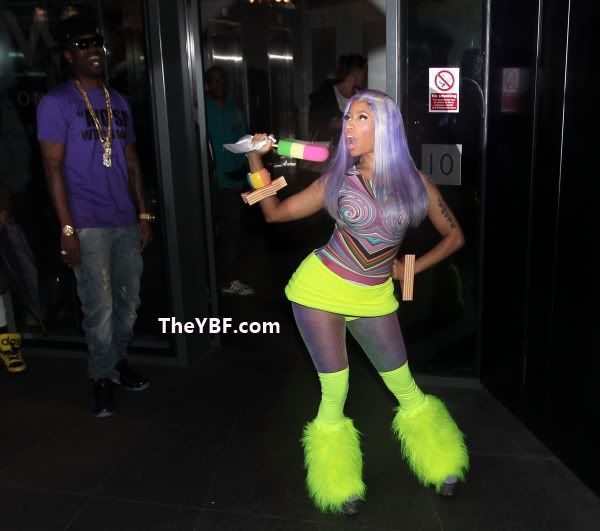 Rapper Nicki Minaj was spotted leaving her hotel in London earlier today in her neon candy coated look.  See her having fun posing with her candy inside....
Billboard's "Top Female Artist" nominee, Nicki Minaj, stepped out of the W Hotel in a bright multi-colored sleeveless top, neon yellow mini skirt and matching neon yellow stockings and fuzzy legwarmer booties.  
The colorful "Beez In The Trap" rap chick revealed this week, during her interview with Graham Norton, that "a voice" in her head told her to delete her twitter....so she did.  Of course.  But she says she's "thinking about returning and hopes her 11 million Barbz will wait.  Of course.
Nicki, who's soon launching her own fragrance, carried a lollipop to complete the look.  Guess she was inspired. 
Too bad it was raining.....I know those boots will look & smell a mess when wet.
Photos via Splash News