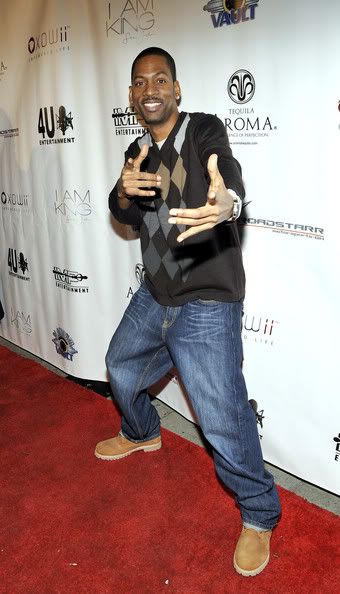 Funnyman Tony Rock, who co-stars in the upcoming Think Like A Man flick this Friday, dished to TheYBF.com about DO's and DONT's of dating.  If you want to take this dude's advice...check it inside....
37-year-old comedian Tony Rock is amongst the talented cast of actors who will grace the big screen on Friday in Think Like a Man.  During an exclusive chat with TheYBF.com, the Brooklyn native, who is single with no kids, offered a few tips about what chicks shouldn't be doing if they want to keep their man where he's at.  And what she should be doing to keep him happy.
But first...we had find out Tony's Marry, Sex, Friend answers that his co-star Terrence J was too much of a gentlemen to answer.
Who would he marry? Regina Hall.  Tony gushed that Regina is the total package when it comes to a women.
Who would he have a one-night stand with?  Meagan Good.  He added that Meagan has a certain sexiness about her and it's hard to look at her and not think about sex.  [Our girl crush senses can totally agree.]
Who's more like a sister/friend?  Gabrielle Union.  He said Gabrielle is sweet and is that type of chick you want to protect.
As for Tony's do's and don'ts to keep you from finding yourself single again, here's what he dished up for our readers:
On broke men dating women with expensive taste:
DO get your cash up and stop being broke.
DO simple things like cooking a nice meal or picking up flowers that don't cost a lot.  
On females KEEPING a man:
DON'T touch the tv during the Superbowl.
DON'T touch the tv during the NBA Finals.
DON'T interrupt him during major boxing events.
DON'T bother your man with silly sports related questions if you don't understand the game.
DON'T try to control the shower temperature during shower sex. Y'all women always like that hot water!
DON'T try to turn your man into something he is not.
On how to date a famous man
Sometimes women get into relationships and say they understand the guy's job & situation, like traveling on the road, his money, groupies, all that.  But once the woman is "in it," they start to see things differently.  All women should walk into the relationships with your eyes wide open and just understand what you are signing up for.  
In addition to TLAM, Tony will be hosting "Apollo Live" (produced by Jamie Foxx) on Centric this fall and making a cameo on an upcoming episode of "Single Ladies."