Actor and television personality Terrence J. recently chatted with TheYBF.com where he offered pearls of wisdom about dating and relationships that he's learned along the way and through his new flick Think Like a Man. Get his advice inside....
It's great to be Terrence J.  He hosts one of the top-rated shows on BET, "106 & Park," stars in the hottest movie of the season, Think Like a Man (and does a damn good job too), and dates one of the most desirable women in the modeling world, Selita Ebanks.  So with all his success, especially playing the role of a mama's boy who is learning to cut the cord, he must know a little something about a number of issues...mainly relationships.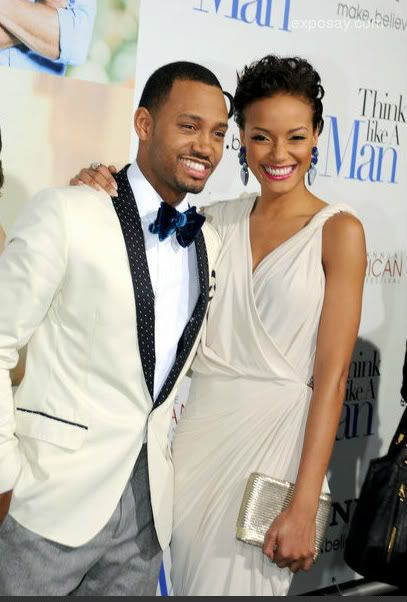 The 28-year-old, who's matured oh so nicely right before our eyes, recently dished up his dating advice to TheYBF.com. 
YBF: What should single women focus on if she's interested in attracting the right man?
Terrence J: "The first thing I notice in a woman is her eyes.  I think the eyes are the gateway to the soul.  If they are bright and open it tells a lot about who a woman is.  Likewise, if I'm talking to a woman and she's not looking at me in the eyes, it also says a lot."
YBF: A big issue in the TLAM movie was a man with financial challenges dating a woman with expensive taste.  What's your advice on making that work?
TJ: "The best gifts come from the heart.  And if you are thoughtful, it doesn't matter how much things cost.  If the woman that you are dating likes a particular flower or particular movie and you write a special note from it....those things mean more than expensive shoes.  Nobody will care about those shoes in a year, but when things are romantic....they are more special."
YBF: You're currently dating someone in the same world as you--famous & "in the industry."  What's your advice, as a man dating a famous model, about dating (or trying to date) someone else who is famous and lusted after by many people?
TJ: "I think whenever you are in a relationship with anybody, all of the bells and whistles and the perceptions of outside people go away.  When you are dating somebody and you really get to know them, none of what other people think about them comes into play. Like Kevin Hart said in the movie, "Go with what you know."
"A lot of times when men are pursuing women, we try to be something that we aren't and that's when we mess up the most. Whenever we are being ourselves and we stick to what we know, that's when things work best.  I love movies and I love things that are outdoors. So if I'm dating a woman, those are the things that I am going to do.  And I'm going to talk about the things I know...because that is what's truest to me."
YBF: You've worked with some of the most beautiful women in Hollywood (Meagan Good, Regina Hall, Gabrielle Union, Taraji P. Henson, etc) during the filming of TLAM.  Game time!  Who would you marry, who would you have a one-night stand with and who is most like a sister?
TJ:
"
Well..I think all of the women are beautiful and I'd marry each of them."
Well isn't he just the perfect gentleman...
You can catch Terrence J. in his first major big screen role in Think Like a Man, this Friday, April 20th.