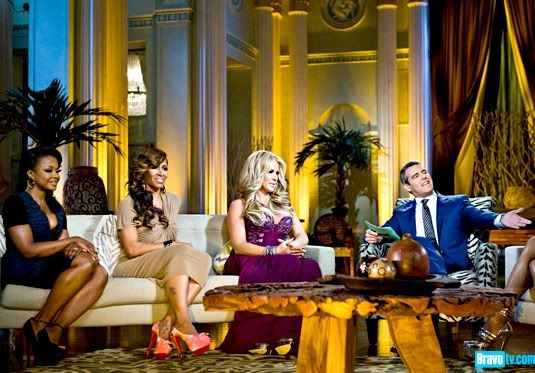 Last night, viewers witnessed some of the nastiest verbal attacks in reality tv history as the stars of "RHOA" kicked off their season 4 reunion last night.  Get the deets inside......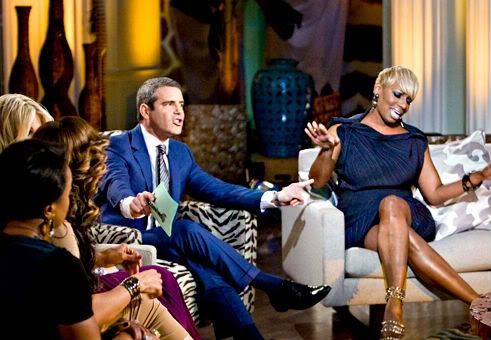 Bravo's Andy Cohen played referee and ringmaster last night as the stars of "RHOA" attacked each other verbally about their antics this season.  Here are the highlights:
NeNe Leakes and Sheree Whitfield argued about NeNe's "I'm very rich bitch" statement that became this year's catch phrase.  Sheree brought up that NeNe couldn't have made that much tv money since Piers Morgan also was on "Celebrity Apprentice" (like NeNe) and he got $25K and won.  So During their verbal bout, NeNe asked Sheree "What's your status at the bank."
In what many people considered a low blow, Sheree brought up NeNe's son Bryce and his Walmart shoplifting incident.  NeNe (finger pointing) warned, "Don't go there with the kids."
Sheree Whitfield "cried" about her ongoing child support battle with her children's father and when she tried to explain why Chateau Sheree still hasn't broken ground, you could hear Andy laughing at her!
NeNe said Sheree's home will probably never be built and NeNe named it "Neverland" until it is.  Sidenote: THAT is funny.
Kandi Burruss revealed she is dating one of the "RHOA" production managers named Todd.  She also said they are moving in together.
During talk of Kandi's sex toy line, NeNe said she wasn't cool with it and "doesn't want a dildo inside her."
Watch Sheree and NeNe argue about bank status:
Watch Sheree confront NeNe about Bryce's shoplifting incident:
Watch Kim and NeNe argue about Kim's home rental:
Watch a preview of part 2 here: