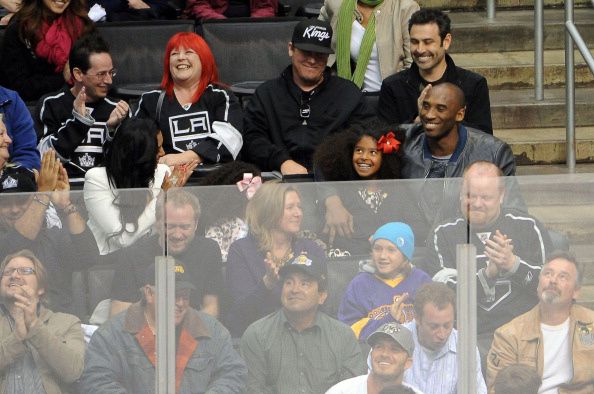 Kobe & Vanessa Bryant may have filed for divorce this past December, but they have since been spotted twice together looking like a reconciliation could be on the horizon.  Including sharing a Valentine's Day kiss.
Check out the Bryant's second photographed outing at last night's L.A. Kings hockey game inside...
It could be just for the kids.  Or it could be, in part, to rectify their marriage.  But Kobe & Vanessa having been spotted together on a few occasions post-divorce filing.  And they are looking extra happy these days when spotted together.  Especially Vanessa.
The twosome clapped and laughed while their two daughters, Natalia & Gianna, sat between them at Game 3 of the Kings-Canucks playoff series. Kobe has missed a few of the last Laker games, due to a shin injury, including yesterday afternoon's game against the Mavs.  But it didn't stop him from spending quality time with his fam last night.
Can a divorce filing do wonders to get a marriage back on track?  Hmmm....