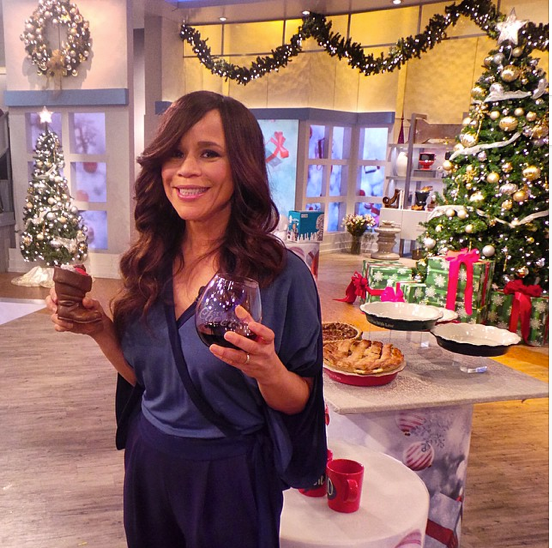 Rosie Perez is OUT at "The View", this according to a buzzing report.  We've got the deets inside!
ABC's "The View" is on their Destiny's Child ish and swapping out ladies like nobody's business.
Varietyreveals, in an exclusive report, that the boxing loving co-host Rosie Perez will be leaving "The View" after only four months of having the hosting gig.
Why?  It is said that the producers may be looking to skew younger than the current demo.  Every day since returning since the Holiday break, younger celebs like Naya Rivera, Ashanti, KeKe Palme, Michelle Williams and plenty more have tried their hand at the co-hosting gig.
All of this is going down while Rosie's away for the month of January doing her Broadway show "Fish In The Dark".  Variety claims that it is unclear as to when ABC will announce her departure, but allegedly, it's clear she's not returning to the Hot Topics table with Rosie O., Nicole Wallace and Whoopi Goldberg (who has also been out this month due to back issues).
According to Variety:
After declining steadily for a few years, ratings for "The View" have stabilized in its 18th season with new co-hosts....the show is on par with last year in total viewers and down a bit in key demos. Perez was handpicked by the show's new executive producer Bill Wolff as a last-minute choice after the show underwent a reinvention this past summer after the retirement of Barbara Walters.
Of course, a rep for "The View" denied that Rosie would be exiting the show saying, "Her status with the show has not changed."
And Rosie tweeted this just two days ago saying she would be returning soon:
"@lilablue22: @rosieperezbklyn@TheView. OK Rosie! It's time to come back. You've been away too long!!! Miss you!" Very sweet... Soon.

— Rosie Perez (@rosieperezbklyn) January 13, 2015
Not sure who to believe, but oftentimes the celeb themselves are the last to know they're getting the boot...and networks like to keep it under wraps until the ultimate last minute.
Time will tell...
Photo: The View's IG