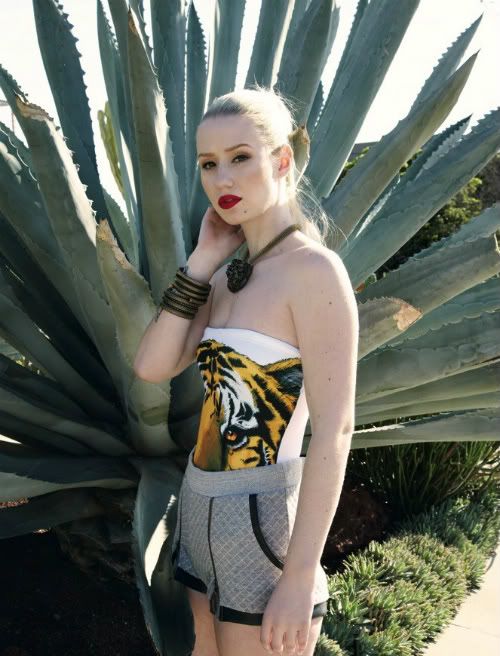 Australian born rapper Iggy Azalea is making waves (and trending topics) for both her provacative lyrics and her lily white looks amongst the rough Grand Hustle crew.  And in the April issue of DAZED, Iggy addresses people's preconceived notions about white rappers, female MCs, and other stereotypes affecting her music.  See article highlights and check out her latest "I Think She Ready" shoppable video with FKI and Diplo.
It's not easy being a single white female.....at least not in the rap game.  In the latest issue of DAZED, Interscope artist, Iggy Azalea, chronicles her rise from rural Australia to being a part of T.I.'s crew.  She also discusses being taken seriously and how she blends fashion and art.  
Here are some highlights:
On falling in love with American rap and hip hop:

Iggy Azalea: I heard a Tupac song at a friend's house down the street and it all really started from there. There was something about it that truly touched me. From that day, I got every video, album and magazine related to hip-hop that I could get my hands on. I was obsessed.

On how her fashion sense and love of music meet:

Iggy Azalea:  I used to wear Timberland boots and boy jeans because I wanted to dress in a way that would make people would look at me and be able to tell what style of music I liked. Although, as I grew older, I gradually stopped caring if I looked or sounded the way a rapper is 'supposed' to sound; then the high heels, skirts and Vogue magazines became a staple in my life again.

On being a white rap artist in Sydney:  

Iggy Azalea: Being a teenage white girl didn't make me stand out as much as you'd imagine - Australia has a lot of white kids in it! There weren't too many girls on the mic but there were definitely a lot of girls at the events because it was a cool place to hang out; and a place to meet boys and look cute. I always felt in my heart that I was a champion, so hearing boo's from a crowd just made me want to prove them all wrong and get better.

On being a woman in the rap game:

Iggy Azalea: Race to me is a low blow that people just use when they have nothing real to hate on. To me, being a woman is the biggest hindrance; a lot of people don't want to see a woman on the mic, just like they don't want to see a woman play an electric guitar. There are a million and one things that I go through as a woman and as a human being that we can all relate to, and colour is just an extremely small thing to me. I have to view it that way if I want the rest of the world to take on that mind frame too.

On being stereotyped for her "appearance":

Iggy Azalea: There are a million and one stereotypes people try to put on me every day. How a woman should act, how an Australian should act, how a white person should act, what 'real rap' is, what we consider to be beautiful. I'm blind to them all in my creative process. A stereotype should never hinder art if you're brave about it, and I try to be.

On referencing Basquiat on her Ignorant Art mixtape:

Iggy Azalea: Yeah, the cover and title for my mixtape is a reference to Basquiat, who's an artist and personality I find really interesting. I think he really just did whatever he wanted in a time and place when people tried to stereotype what a 'black' artist should or should not be, or even what 'good art' should be. He just did his own thing, and I love that.
More pics from the DAZED spread: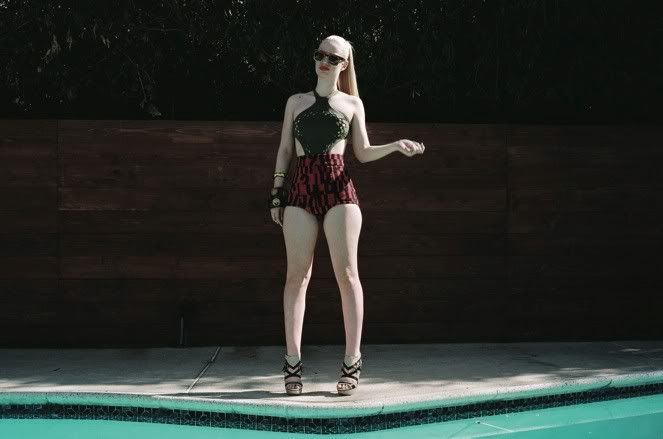 Also, Iggy just dropped the first-ever interactive shoppable music video for FKI's "I Think She Ready." The video (which also features Diplo) was shot in LA by Alex 2Tone and styled by SSENSE. Every item featured is available to purchase directly through the video.
Watch "I Think She Ready" here:
Photographer Columbine Goldsmith / Stylist Janelle Walker / Make-up Alejandra Hernandez