Nicki Minaj stopped by Best Buy in Harlem to sign copies of Pink Friday: Roman Reloaded yesterday.  And on a segment taped for Power 105 1's "The Breakfast Club," she talked very openly about being "too pop," her relationship with SB and the blueprint for what a female Jay-Z would look like.   Listen to the interview inside and see pics from her album signing at Best Buy.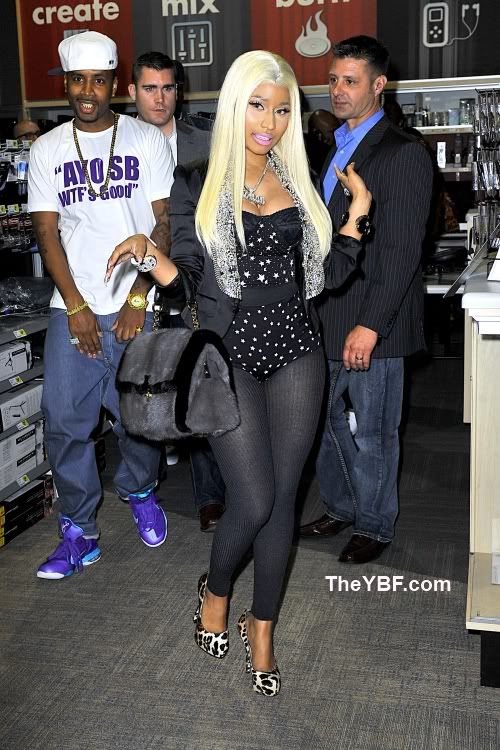 Nicki Minaj rolled through the Best Buy in Harlem yesterday (with Sarafee and Birdman)  to promote the release of Roman Reloaded.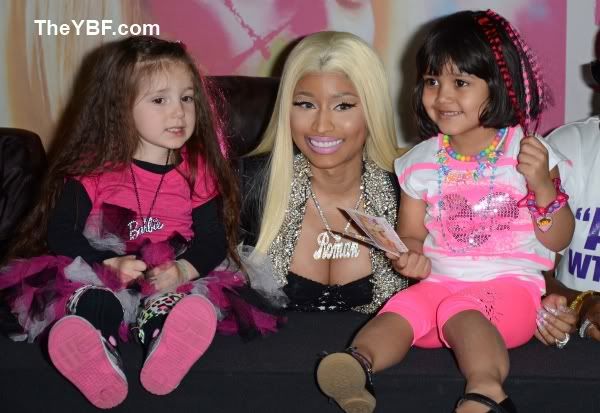 And she greeted her "baby" Barbz.
She also signed the "cast" of a little fan. Cute!
After Best Buy.....
Nicki switched up her gear and was spotted leaving Z100 in NYC too.
And on the radio...... 
Nicki Minaj taped a few segments with The Breakfast Club that aired yesterday and today where she talked about a large number of topics from her being too pop, how she feels about New York not fully embracing her as one of their own and how she deals with criticism from other female rappers and bloggers.  
And during the interview, she talked about the big ring she's sporting on her middle finger. She "claims" she bought it for herself and its not an engagement ring....but DJ Envy wasn't convinced!
She also talked about those Sarafee rumors.  She called him her "adopted son from Somalia."  Alrighty then.  Nicki revealed that  rapped together in a group a few years ago.  He co-executive produced Roman Reloaded and she credits him with being great with song selection.  She also said they have a few companies together.  But are they sleeping together?  No confirmation!  But check those eyes (and that ring) at the 33:43 mark....mmhmmm....
 Listen to Part 1 below:
Listen to Part 2 below:
Listen to the "Extras" here:
Photos via Derek Storm/Splash News