Last night, the upcoming SELMA cast flocked to the NYC premiere. And before the night was over, they snapped a pic rocking "I Can't Breathe" t-shirts with their hands in the "Hands Up, Don't Shoot" position, standing with Eric Garner and the city of Ferguson. Pics inside….
Many YBF celebs have been joining in solidarity against police brutality, rocking "I Can't Breathe" t-shirts, posing in the "Hands Up, Don't Shoot" pose and marching in the streets with protestors. Now the upcoming cast of the highly anticipated film SELMA has joined in on the movement.
During the NYC premiere afterparty last night, the SELMA cast put on "I Can't Breathe" t-shirts while standing in the "Hands Up, Don't Shoot" pose, in support of Eric Garner and Michael Brown, two unarmed men whose lives were taken at the hand of police. Nice!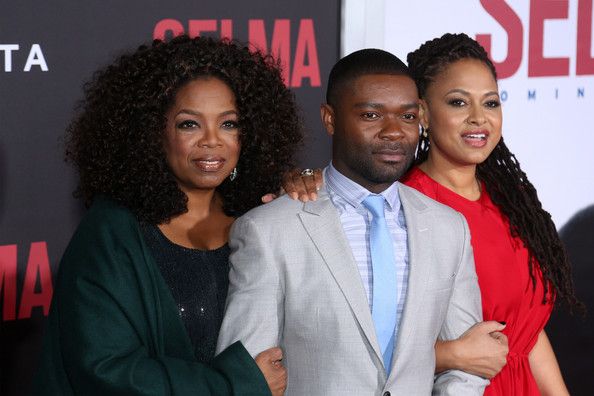 SELMA star and producer Oprah Winfrey was front-and-center at the Ziegfeld Theater with actor David Oyelowo and fab directress Ava DuVernay on the red carpet for the screening of the upcoming civil rights film, which chronicles the life of Civil Rights Movement leader Dr. Martin Luther King Jr.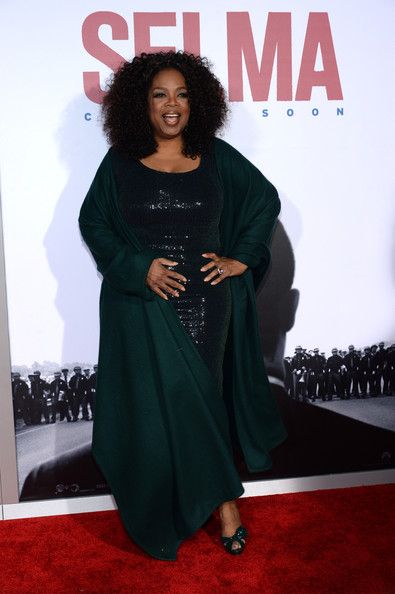 While on the carpet, Lady O opened up about the recent killings of black men by the hands of law enforcement. She told TheGrio,
"Even if we didn't know about a Ferguson, or an Eric Garner or a Michael Brown … they were going on. The fact that they may have now become newsworthy or made national or international news doesn't mean there haven't been nameless Michael Browns or Eric Garners before. My feeling is everything is always happening exactly as it should and on time. There's no coincidence that this is happening now, but because it's happening now, people are paying more attention."
She added,
"Life is always there to teach, enlighten, and open you up to the greater possibilities of what can be done … if you're willing to be awake and see it. What's exciting to me is that people are awake. If it took Eric Garner and it took Michael Brown and other instances to do than, then … that's where we are in our evolvement as human beings."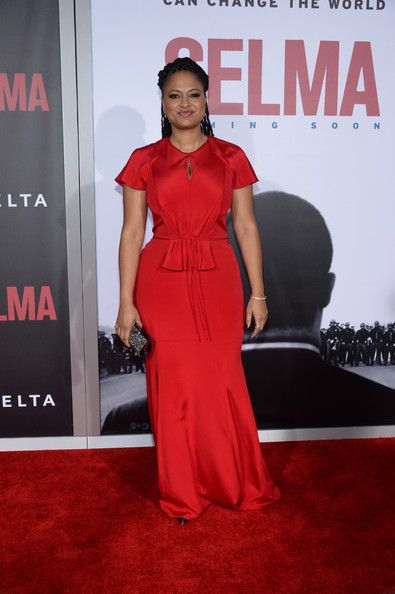 Award-winning filmmaker and director of the film Ava DuVernay (who became the first black female director to be nominated by the Golden Globe Awards for Best Director) got gorge in a red Carolina Herrera gown. The fab directress dished on her history making nomination with The Daily Beast saying,
"I didn't know that was the case with the Globes until afterwards. I thank the journalists that are in it now that decided to include me with such a wonderful list of directors, but yeah, the organization's been around since 1943 so there's a lack of progress there. It's nice that they're catching up to it, but I know that I'm not the first black woman deserving of this honor, so I stand with a lot of women behind me who helped this moment happen."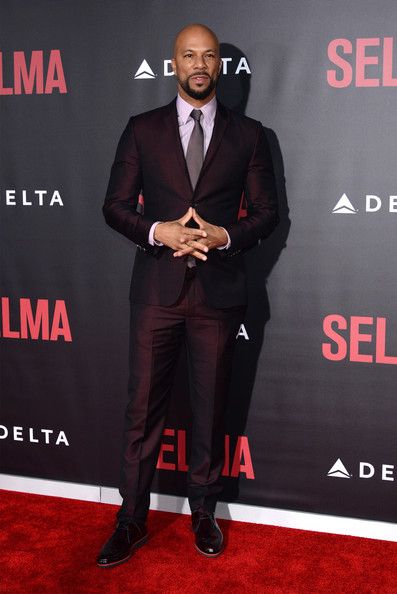 Common (who joined protestors in NYC recently) got dapper in an oxblood tailored suit. He plays civil rights activist James Bevel in the film.
Dear White People starlet Tessa Thompson kept it interesting in a Rodarte SS15 hand painted gown with an embroidered pearl net and iridescent sequins, dripping in Swarovski crystals for her look of the night. The YBF chick stars as Diane Nash,  founding member of the Student Nonviolent Coordinating Committee.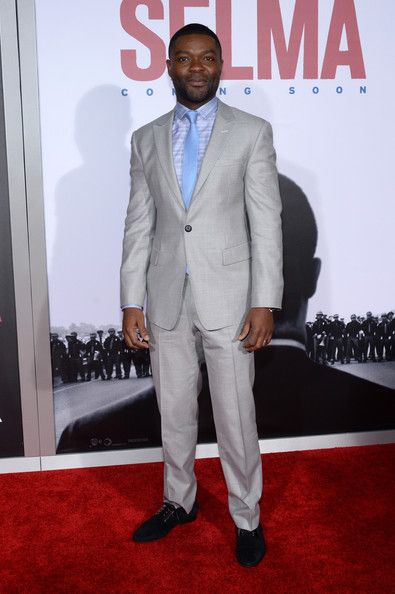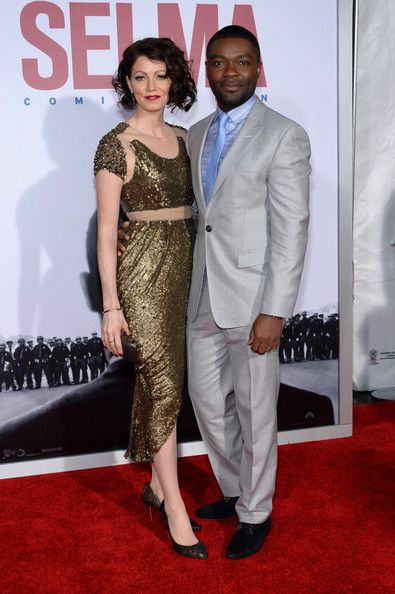 British actor David Oyelowo brought his wife Jessica along for the premiere. The Butler star plays the reputable Martin Luther King Jr. in the upcoming film.
His role in SELMA is already garnering awards. He will be honored by the 26th Annual Palm Springs International Film Festival as the breakthrough actor of 2014. The awards gala will go down on January 3rd.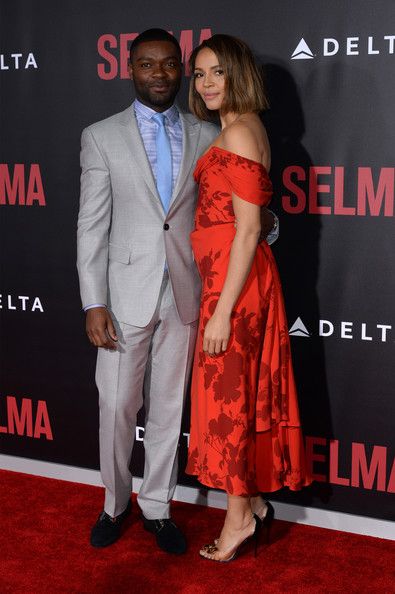 The Purge actress Carmen Ejogo also hit the carpet, posing it up with her cast mate David. She will be starring as Martin Luther King's wife/civil rights activist Coretta Scott King.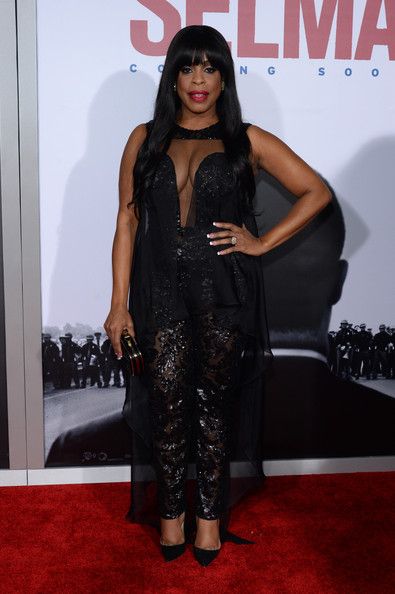 Nicey Nash kept it sexy in this all black sheer and sequined jumpsuit. She will play civil rights activist/author Richie Jean Jackson in the upcoming film.
"Instant Mom" actress Tia Mowry Hardrict got chic in white Stone Cold Fox tuxedo dress, Top Shop printed pumps and a Rockin' Reptile clutch.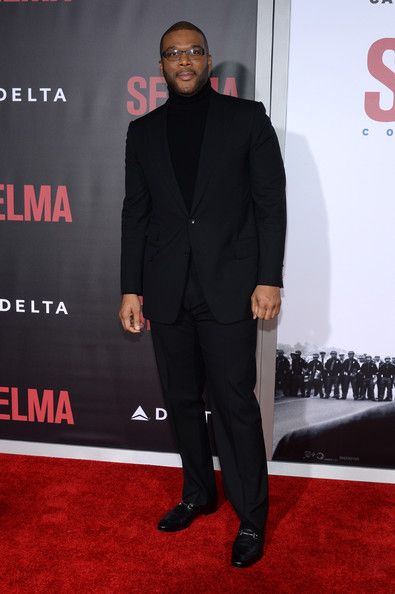 New dad Tyler Perry came out to support.
Oprah's bestie Gayle King was all smiles on the carpet.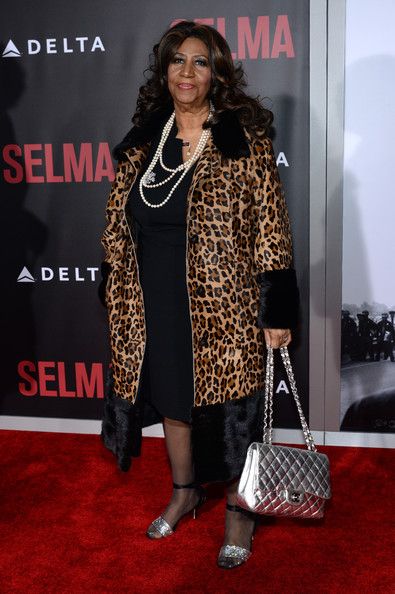 The Queen of Soul Aretha Franklin was in an animalistic mood for the event last night.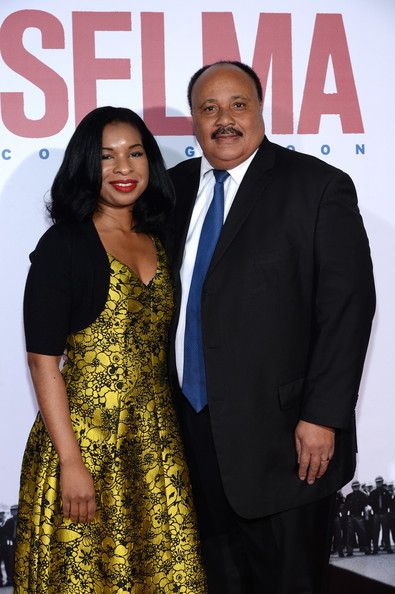 MLK Jr's son Martin Luther King III and his wife Arndrea Waters came out to see the biopic.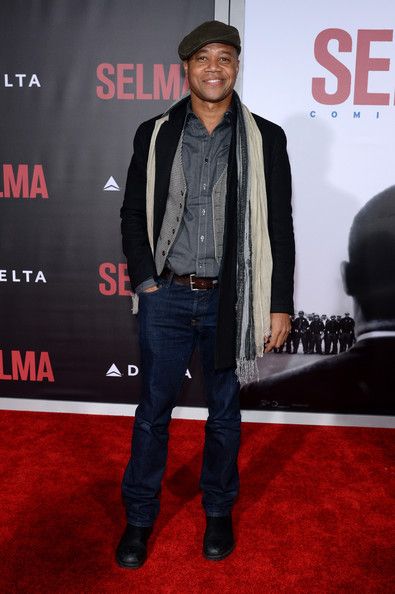 Academy Award winner Cuba Gooding Jr. was also in attendance. A brand new anthology series is coming to the FX Network. And Cuba has been cast to play O.J. Simpson in the first installment,"American Crime Story: The People vs. O.J. Simpson".
Actor/director Ruben Santiago-Hudson posed in the "Hands Up, Don't Shoot" pose in support of Ferguson.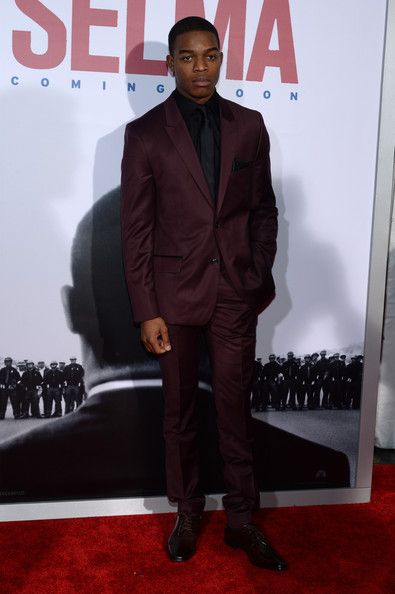 Actor Stephan James stars as the youngest of the Big Six Civil Rights leaders, John Lewis.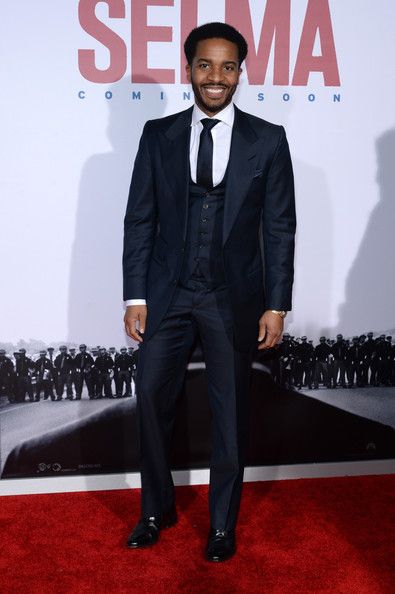 Actor Andre Holland stars as human rights activist/politician Andrew Young.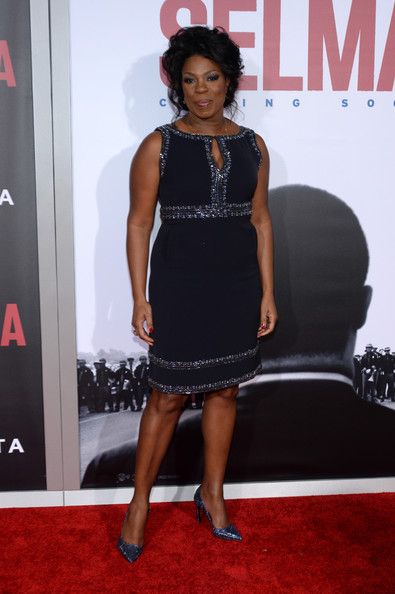 Actress Lorraine Toussaint plays Amelia Boynton, leader of the American Civil Rights Movement in Selma.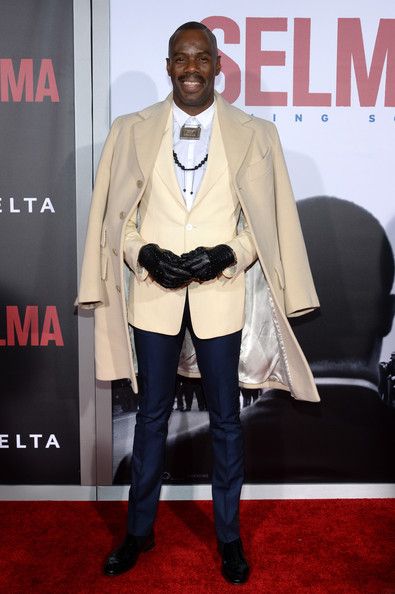 Director/actor Colman Domingo stars in the film as social activist/pastor Rev. Ralph Abernathy.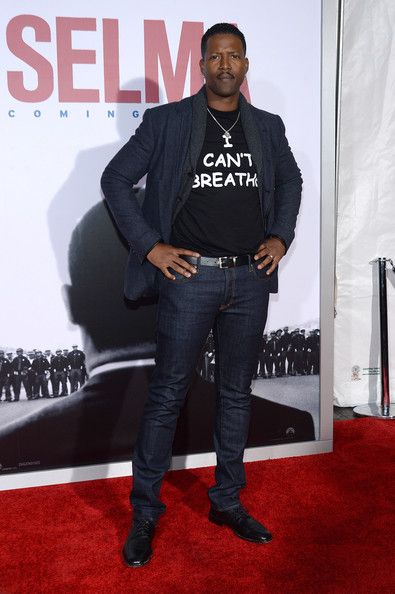 Corey Reynolds  plays the close friend and lieutenant of MLK Jr., C. T. Vivian.
Gospel and R&B singer Bebe Winans came out to support.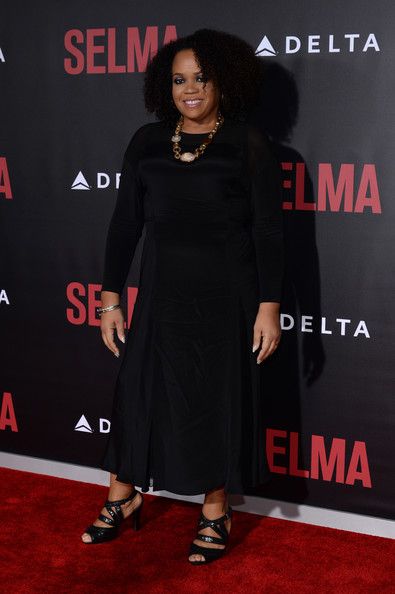 Carol's Daughter founder Lisa Price was all smiles.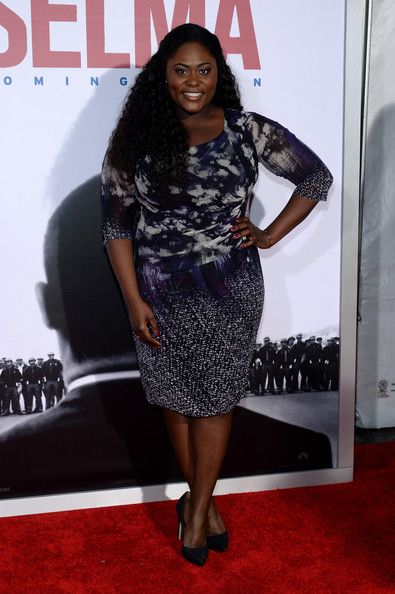 And "Orange is the New Black" Danielle Brooks posed it up before checking out the film.
Fab times.
Photos: Getty/Wilson Morales