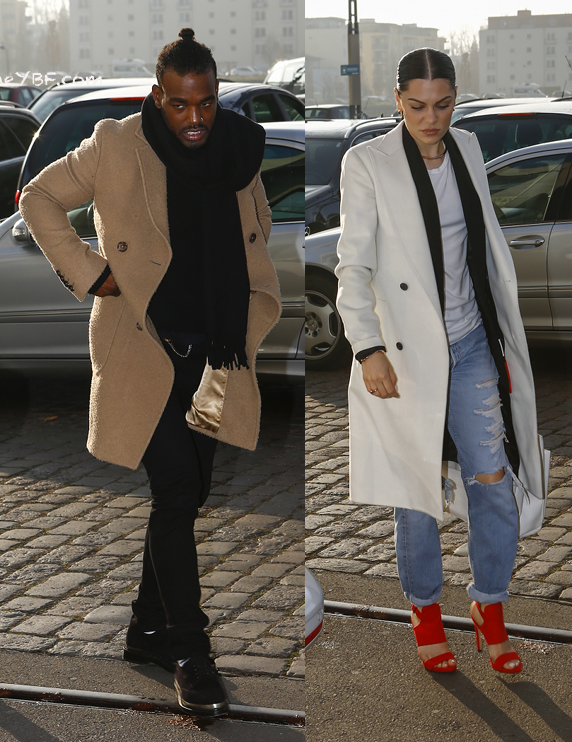 Pop and R&B couple Luke James and Jessie J spent Thanksgiving together in Berlin. But Jessie isn't a girl in love...yet.  Peep the pics, and find out what she revealed about falling in love to GLAMOUR.
Pop singer Jessie J, who's "Bang Bang" track hit #1 on the Hot 100, spent Thanksgiving in Berlin, promoting her latest album, alongside her boyfriend, R&B crooner Luke James. 
In the latest issue of Glamour Magazine, the Uk-bred singer (shown above in Fernsehwerft Osthafen, Berlin) opens up about her career ambitions and reveals that she's willing and ready to fall in love.  Could Luke be the one?  Time will tell. Here are the highlights from the January 2015 issue:
On whether she's in love:
"Am I in love right now? I'm working on being in love. That's the truth…I don't want to sound mean. But I'm not in love….yet. I'm learning how to fall in love"
On what that involves:
"Someone who can be stupid with me. Being in love is when you can be yourself as if you were on your own, but they're there."
On whether current boyfriend, Luke James, could be this guy:
"Maybe. Why not? I'm nearly 27 and I'm at a point in my life where anyone I'm allowing to give that part of myself to, I want to give the chance for it to be forever. And he's really amazing."
On writing songs for others including Miley Cyrus and Alicia Keys:
"Party in the USA paid my rent for, like, three years. Actually it was longer than that. That's where I get most of my money. I write songs. I'm a singer. I love doing endorsements and stuff, but that's all added on."
Speaking of Luke... 
He's in route to New Orleans where he'll perform at The Metropolitan on tonight, and will hit the stage for the Bayou Classic Fan Fest on Saturday.
Photos via Splash News