Oprah Winfrey will present self-help expert Iyanla Vanzant with a fabulous home makeover on an upcoming special, "Oprah Prime: Iyanla, I'll Fix Your House." Watch the preview inside and check out SNL's spoof "Black Annie."
Iyanla Vanzant, our beloved "Life Fixer" is getting a fixup of her own. While she has dedicated her life to fixing other people's lives, she's barely had time to fix up her own home...until now.
Oprah Winfrey, who's often preached that a person's home is their sanctuary, wants Iyanla to feel comfortable in her sanctuary. On the OWN special television event, "Oprah Prime: Iyanla, I'll Fix Your House," airing this Saturday, November 29 at 8 p.m. ET/PT, Oprah and friend and interior designer Nate Berkus fix up Iyanla's house!  And Iyanla has a backstory worthy of its own "Fix My Life". From OWN's press release,
"After a series of struggles years earlier, including a divorce and the loss of her daughter, Iyanla lost her home and returned the keys to the bank. Rising above her misfortune and subsequently helping others to do the same, Iyanla found new success, including her award-winning OWN show, "Iyanla: Fix My Life." Realizing a dream she thought was lost forever, she recently purchased a new house in Maryland, but it needed work and a floor-to-ceiling overhaul to fix some pretty major design challenges."
We've got a sneak peek at the makeover. Watch Oprah's phonecall to Iyanla:
Watch the promo below:
Also on tv....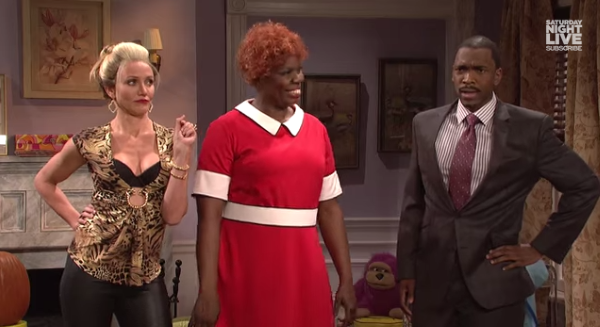 Over the weekend,  Cameron Diaz , who stars alongside Jamie Foxx and Quvenzhané Wallis in "Annie", hosted "SNL" where she spoofed the upcoming film. 
In the SNL skit, "Black Annie" is played by Leslie Jones and Jay Pharoah plays Jamie Foxx as William Stacks/Daddy Warbucks. Cameron Diaz reprises her role as Miss Hannigan.  And yes, it left us like "Hmmm..."
Annie hits theaters on December 19th.
Photos via OWN/NBC