Pharrell Williams landed a leading role in a new film by fashion house Chanel titled Reincarnation. Get the deets and peep the first pics inside…
P is on his King behavior. Pharrell Williams has had one successful year thus far. The superproducer was nominated for an Oscar for his track "Happy" (from the Despicable Me 2 soundtrack), new shoe collections with Adidas & Timberland, his very own G I R L fragrance, much success on the music charts and is currently a judge on singing competition show "The Voice". Now, Skateboard P is trying his hand at acting.
Directed by Chanel's head designer and creative director Karl Lagerfeld, P has landed a role in a new project created by the fashion powerhouse. He will be starring in a new short film titled Reincarnation alongside fashion model Cara Delevingne.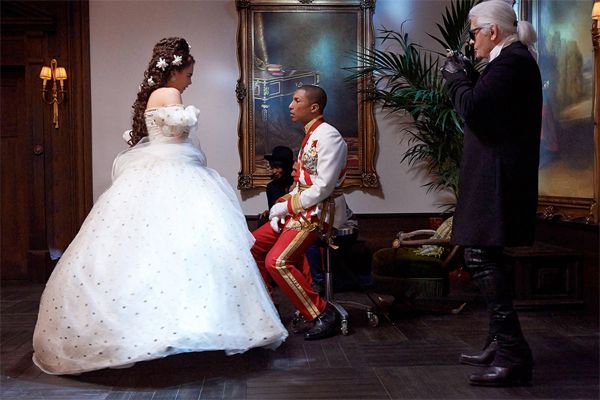 In a sneak peek, it appears the 41-year-old producer will reenact a fairytale scene as a Prince, while Cara will likely play a fashion forward Cinderella-esqe type role. The film will accompany the CHANEL Paris-Salzburg 2014/15 Métiers d'art collection, which will be unveiled to be screened in Salzburg, Austria on December 2nd, the night before the Paris-Salzburg 2014/15 Métiers d'art show.  Fab!
Putting his amazing song writing abilities to work, P wrote the lyrics to "CC The World" (the background track in the teaser) and he will also serve as the face of the upcoming aris-Salzburg 2014/15 Métiers d'art collection campaign, along with Cara.  Nice!
Karl Lagerfiled explained the storyline of the film saying,
"It was time to show the origins of the Chanel jacket, inspired by the one worn by the lift attendant in a hotel near Salzburg in the 1950s. Reincarnation is the story of a lift attendant's jacket being reincarnated as a timeless piece of women's wear."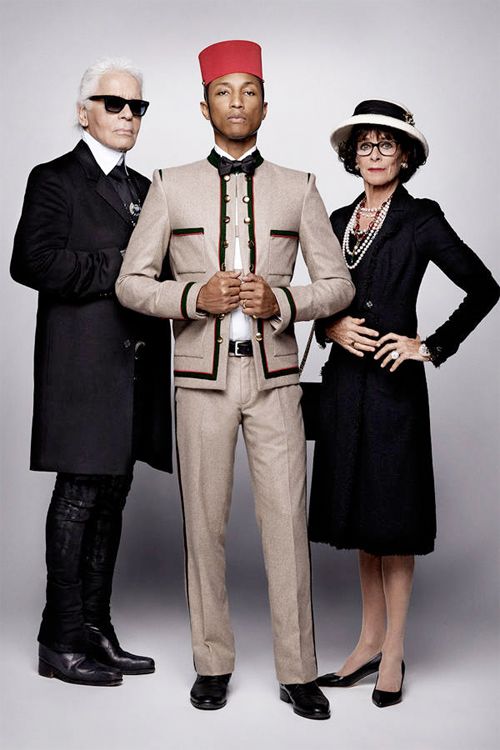 Karl's 6-year-old god son Hudson Kroenig (who recently posed it up with model Joan Smalls in the Chanel Cruise 2015 ad campaign) will star in the film as well, alongside Geraldine Chaplin (above) as Gabrielle 'Coco' Chanel. The short film will follow the life of the legendary designer, who meets a young lift-boy (played by Pharrell), while in the suburbs of Salzburg in 1954 for the holiday season.
 
Karl added,
"None of this would have been possible without Pharrell Williams, Cara Delevingne and Geraldine Chaplin. It's the perfect cast. Pharrell is a genius and Geraldine at her best in the role of Gabrielle Chanel in the year of her comeback."
It's fashion genius at work.
 
Check the teaser below:
We're here for it!
Photos: Chanel via Harper's Bazzar