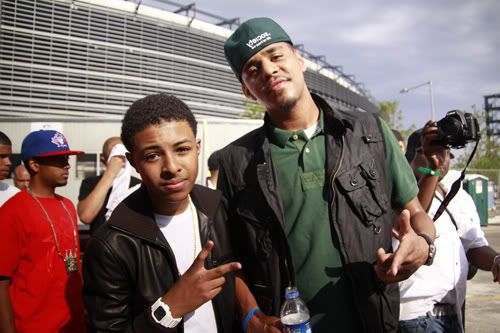 Did Diggy Simmons diss his former friend J. Cole in his new "What You Say To Me" track? Listen to it inside......
There is another Hip Hop battle brewing and it's between Diggy Simmons and J. Cole.  
It seems that Diggy might be feeling some kinda way because of the "Grew Up Fast" song where J. Cole says, Move along cock-sucker, ain't got nothing to see / 'less you talking blockbuster, you n***as is not Russell / You more Diggy, Me, I'm more Biggie / No diss to the young boy.
Or maybe it was because J. Cole references sexing a girl on his "Purple Rain" and many people have ASSUMED the track was about one of the Simmons sisters. He did mention "Vanessa" and her booty looking good in some shorts on one of his 2007 tracks.
Whatever the reason for the beef, Diggy doesn't hold back on the track saying lines like,
The other day I was listening to "Purple Rain" / Couldn't believe all of the things that I heard him say / Who Dat? Who Dat? You know who it is / Heard you lying on my sis, tellin' people that you hit…
Little n***a think he Cole, think he live like me / Jet setter, trend setter – yeah you not like me / Can't find a girl you know that do not like me / I can't find a girl I know, that knows you / You local, wasn't even poppin' in the school you used to go to

I'm about to read your your rights, Miranda / Only thing you hitting in the morning is your hand up / Stand up, matter fact sit down – don't try to call Hovy-hov boy, sit down
College boy acting like a criminal / Knowing you a broke-back Jake Gyllenhaal / You imaginary player, even TMZ didn't notice you was there / Jeez, you are such a dweeb – and your shirts don't fit; long arms short sleeves
 I mean, it's no Biggie/Tupac.....but for April Fool's Day I guess this beef will have to do.....
Listen to "What You  Say About Me" here:
PS--it has not been confirmed when exactly this track was recorded.