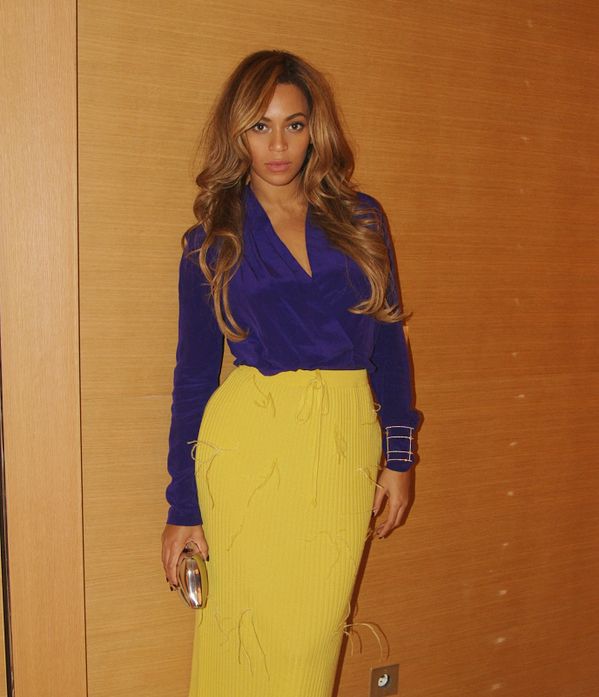 We saw this coming. That "leaked" tracklist making its rounds on social media for an alleged upcoming Beyonce Volume 2 album is a fraud! Get the deets inside…
A few days ago, an alleged tracklist for a "surprise" BeyonceVolume 2 album (with Columbia's logo plastered on it) popped up on social media and it circulated like a wild fire. But apparently, it's a fake! Like we figured (which is why we didn't post it).
We noticed the release dates listed on the "leaked" line sheet didn't match up:
 
As you can see, the sheet says Monday, November 25th is the release date for the physical four-disc copy with all these new songs featuring Rihanna, Nicki, etc.. November 25th is actually on a Tuesday, not Monday. Seemed like a rookie mistake, so we assumed the leaked information was likely falsified.
However, a four-disc Beyoncé Platinum Edition Box Set (2 CDs & 2 DVDs) is happening. And it's expected to drop November 24th, just in time for the holidays. It includes only two unheard tracks "7/11" and "Ring Off". But neither of those tracks were included in the leaked line sheet.
Now, Parkwood Entertainment's general manager Lee Anne Callahan-Longo is deading all the rumors of the alleged Volume 2 disc.
During an interview with Billboard, Lee Anne confirms the track list for the supposed Beyonce Volume 2 is bogus. It featured fan fabricated song titles "KO", "Good In Good Bye", "Sensation of Pain" and guest features including "Renouncement (featuring Justin Timberlake)".  Sorry Beyhive.
In an official statement Lee Anne says she found the "leaked" tracklist rather funny. She said,
"It's completely made up. After all the hubbub this weekend, we kind of said, 'Well, let's just put it out and say what it is.' It's funny, I got a bunch of calls over the weekend and I would say, 'It's exciting to know people are excited.' Even if they're reporting it wrong, and that people would take their time to go and create a fake one-sheet — right down to using a Columbia logo on it. I would love to know who did it. They clearly knew what a line sheet used to look like – they don't look that anymore."
 
The line sheet almost seemed legit since there were two songs listed that have been registered on the ASCAP website (we checked and they're still there) under Bey's name. Those songs are "DONK" and "Cherry":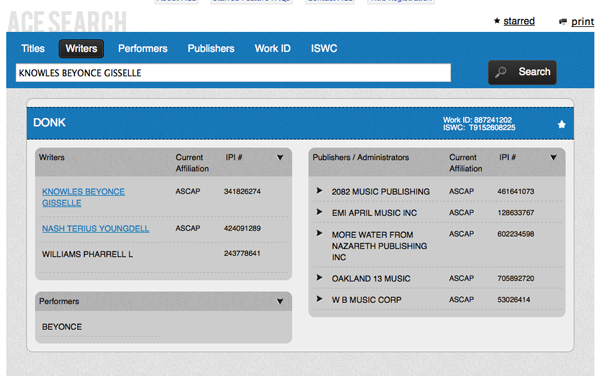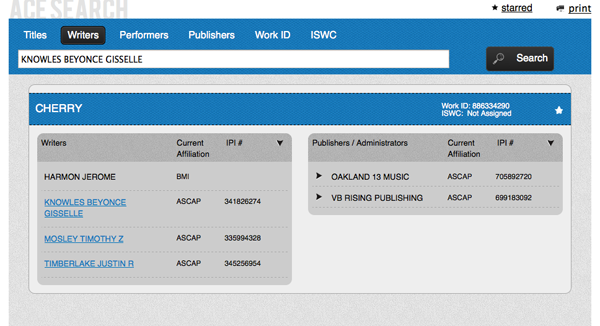 So we may (or may not) see those two tracks on an upcoming LP or elsewhere, but there have been no confirmations....as of yet. 
Lee Anne added, "You could never have imagined their creativity. So seeing some of those [song] names, that was so fun and exciting. You can only be first once, so I'm not sure we'd want to do it again. We typically at Parkwood like to look at projects where, if it isn't unique or different in some way, it's really not interesting to us."
Well, there you have it.
Photos: Beyonce.com/Twitter