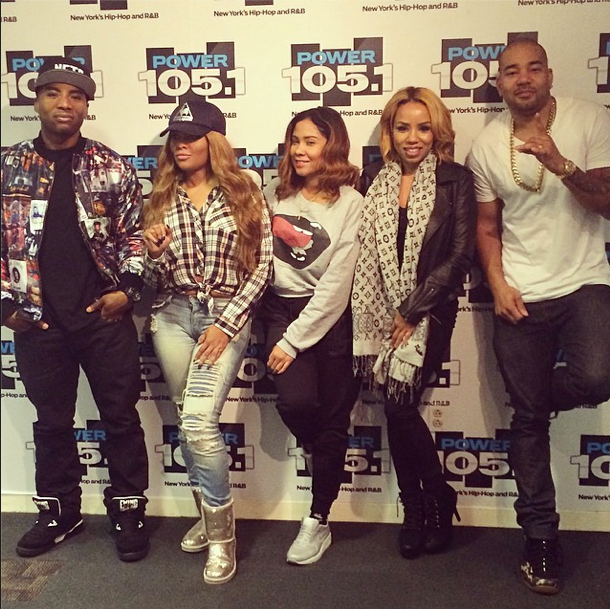 Ray J's exes are talking about all of the foolery that went down during the reunion show taping. And apparently, fights broke out involving Teairra Marie and Ray J and another fight between Morgan Hardman and Ray's current girlfriend Princess Love. Find out what went down and how they currently feel about Ray inside …
Ray J's ex-girlfriend Teairra Marie and his ex-assistant Morgan Harden hit up Power 105's The Breakfast Club the morning after taping the "LAHH Hollywood" reunion.  The pre-taped interview aired this morning, and it's a mess.
There's a lot to take in, so get ready:
We told you about the brawls that went down with the "LAHH Hollywood" cast. In one of the several fight that have popped off, Ray J's ex-assistant Morgan Hardman got into a brawl with Ray J's current girl Princess Love. The end result? Morgan's hand was injured, but not because of Princess. Morgan dished to the Breakfast Club on what actually went down while on the set.
She said Ray "sicced his dog" (i.e. Princess) on her and that's when ish went left. Morgan also revealed Princess actually had NOTHING to do with her hand being injured. Princess came after her on the set, punched her and when she tried to fight back, security jumped in and wouldn't let her fight back. Out of anger, she said she punched the wall since she couldn't get to her like she wanted to after she tried to attack her.
Why did Princess come for her? She said that a while back, Princess threw her under the bus spreading a rumor that Morgan said Ray was trying to flirt with Masika. Morgan said she never said that but since she wanted to start drama she told Ray,"Well at the end of the day your bitch is still talking to Floyd [Mayweather]. Why you was sitting in jail, your b*tch was talking to Floyd" You'll recall, Princess use to date Floyd Mayweather before she got with Ray. Then Morgan said Ray actually beats on Princess everyday. Which is the reason why Ray ended up attacking her.
Here's the deal..Morgan said on June 10th she was trying to stop Ray J from beating Princess and that's when he assaulted her in front of her 11-year-old son! She said she was involved in an abusive relationship for 5 years and Ray knew that so their relationship is done. Morgan said Ray is a flat out "B*TCH!" Morgan also implied Ray hits his big sister Brandy. Oh?!
Morgan confirmed Ray did NOT fire her, she left. She also confirmed she NEVER had sex with Ray.
Morgan then went on to say her former boss got her 11-year-old son Corey kicked off of his basketball team! Apprently, he's a sponsor for the team, so he allegedly told the coaches to kick him off the team. She said Ray is the only man that has been in her son's life, so it hurts that "Uncle Ray J" is being so spiteful.
Morgan said Ray REALLY needs help because he has a serious problem.
Teairra Marie confirmed Ray has NEVER hit her. She said Ray J was cheating on her with Princess Love when they were together. So who is she dating now? She said she's currently single right now.
Teairra said she and Hazel E were good friends, but they have deep issues. And she will never "f*ck" with her ever again [as best friends].
Teairra said she REGRETS doing the VH1 show and that the reunion taping was A LOT. (Be she's on next season though...)
She doesn't think Mona Scott Young is exploiting them, but rather they are exploiting themselves. During the taping, she confirmed she fought Ray and Princess on the set! She was blindsided by something (which she wouldn't reveal) dealing with Ray, so that's what set her off.
Teairra said she still loves Ray, but she's not in love with him.  As for the last time she had sex with him -- it was a little over a year ago.
Teairra then talked about when she first got into the music industry, after signing with Jay Z's Roc-A-Fella. So what happened to her career? She said it had a lot to do with management, her mom and her BIG ego. She admits that maybe she wasn't ready when she was got signed at the age of 16. As for what she's doing right now, she's in the studio working with Yung Berg and he's doing the majority of her album.  Ugh.
You'll recall, Berg was arrested for "obstruction of breathing" in a domestic violence incident with his girlfriend Masika after the reunion taping. Teairra and Morgan both said they have never seen Berg act that way. They believe he was probably really intoxicated and Masika has a mouth, so the combination was probably what lead to what went down.
Morgan then broke down crying saying she has been there for Ray through everything. She said Ray was the person who gave her her first opportunity to get off welfare and create a good life for her and her son. Girl....
Team Too Much! Check the interview above.
The reunion is set to air sometime in December...we'll keep you posted.