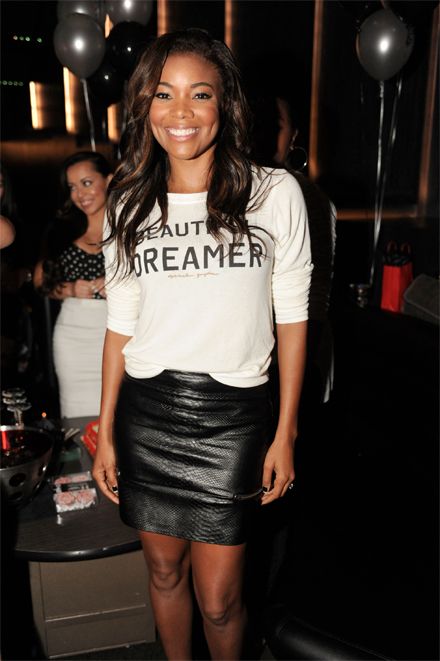 Gabrielle Union turned 42 yesterday! And to celebrate, she rounded up a group of her girlfriends (and fellow Heat wives) and cheered on her man Dwyane Wade during the Heat's season opener. Peep her party pics and new video of former teammates Kobe Bryant and Dwight Howard going AT it during their 2014-2015 season debut inside….
42 & Flawless! "Being Mary Jane" star Gabrielle Union kept it laid back and chill celebrating her 42nd birthday. On Wednesday evening, Gabby and her girls cheered from the stands as her husband Dwayne Wade and the Miami Heat battled it out on the court against the Washington Wizards for the season opener.   
Chick is slaying her 40s.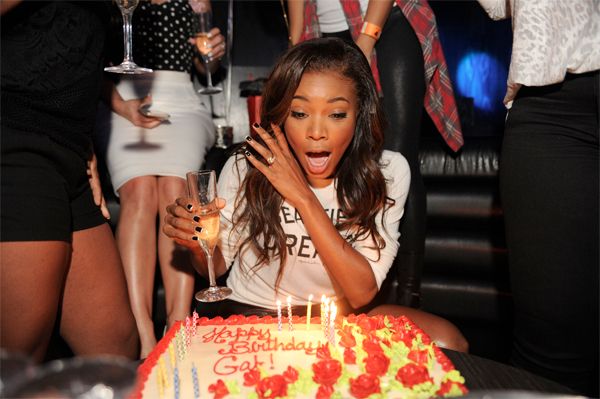 At halftime, Gabby and friends trekked it to the American Airlines Arena hotspot Hyde, where the birthday celebration continued. The TLAM2 star was surprised with her favorite dessert…red velvet birthday cake (yum) along with a few bottles of Moët & Chandon champagne. Cheers!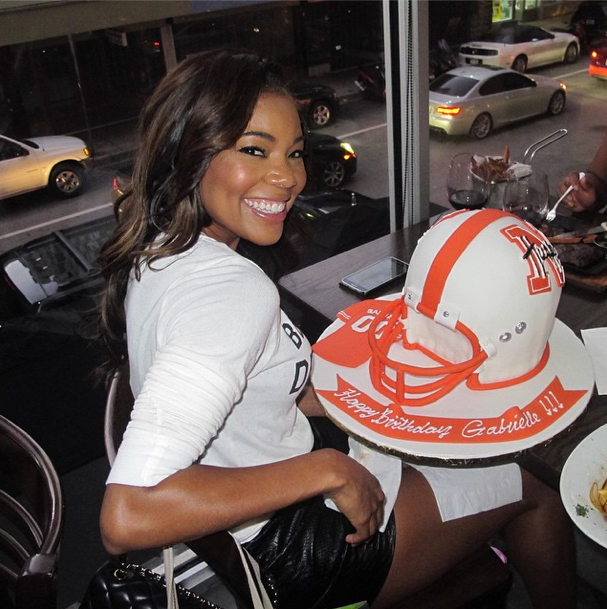 Actually, two cakes were in order for Gabby! Her friend/singer Monica Brown also gifted her Omaha native friend with a Nebraska Cornhuskers helmet cake in honor of her alma mater. Monica said about it,
 Anyone who knows @gabunion knows she does NOT play about her fav [football] team. #NebraskaCornHuskers #SheLovesFootball #SheSingsCountryMusic LOL #OmahaInTheBuilding
Once halftime ended, the 42-year-old actress was spotted smiling from ear-to-ear as she jumped up and down cheering for her man during the game. To top off her birthday, the Heat defeated the Wizards 107-95. And after the game, Gabby and friends toasted to another year of life. Fab times.
And at another season opener….
 
'They fighting!' Well…verbally.
On Tuesday night, tempers were flaring between L.A. Lakers shooting guard Kobe Bryant and Houston Rockets center Dwight Howard.
During the 4th quarter of the Lakers/Rockets opener at the Staples Center Tuesday night, Kobe took two elbow jabs to the chin from Dwight (above), which resulted in double technical fouls against the players and a few war of words between the two. You can read Kobe's lips as he shook his head calling Dwight "soft" and egged him on saying "try me."
It's no secret these two didn't get along when they were both playing for the Lakers during the 2012-13 season. And even now, the two are continuing to butt heads on the court.
After their scuffle, Kobe was caught in a new video, as he sat on the side line calling Dwight a "soft muthaf*cka" and then he called him a "b*tch a** n*gga"! Sheesh...sounds like fighting words to us. Check it below:
 
Bloop! Dwight got one up on Kobe as the Rockets defeated the Lakers, 108-90. Maybe next time...
EXTRAS:
1. Queen Latifah axed Bill Cosby as a guest for her talk show after old rape allegations resurfaced. STORY
Photos: Seth Browarnik/ Worldredeye.com