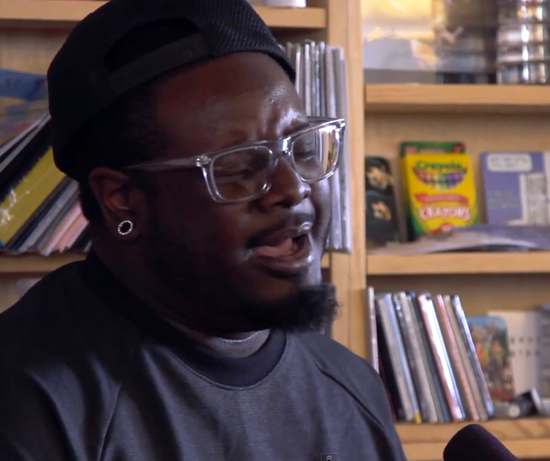 T-Pain is singing y'all! And this time, he left his auto-tune device at home. Take a listen to T-Pain singing a few of his hits sans auto-tune and find out what he said about Kanye West not using the tool correctly. Also, we have a funny video of Anthony Hamilton and his backup singers remixing "P.O.P. Hold It Down." More inside….
The king of auto-tune is proving he doesn't NEED the tool to sound good on a track. T-Pain, who flooded the music charts in the 2000s with his auto-tuned hits, performed before an intimate crowd for NPR's Tiny Desk Concert series recently. And he left behind his auto-tune machine…on purpose.
The Nappy Boy Entertainment founder caught a lot of heat for using auto-tune so much on his tracks. It even sparked Jay Z to drop a track "D.O.A. (Death Of Auto-Tune) in 2009, throwing jabs at artists who use the tool as a crutch. Now, whether he was talking about T-Pain specifically, that remains unknown, but Pain did pop back at Hov after the track dropped saying"a 59 year old shouldn't be trying to dictate what's hot in rap". Bloop!
Now…the 29-year-old (yes, 29) rapper/singer is proving he doesn't actually need auto-tune. Sitting before a small audience with just a microphone and his friend on the keyboard, T-Pain remixed a three of his hits "Buy U A Drank (Shawty Snappin'), "Up Down (Do This All Day)" and "Drankin' Patna" as he crooned the lyrics in a melodic way. And he sounds pretty damn good.
Check it below:
 
Speaking of auto-tune....
In a recent interview with HuffPost Live, T-Pain revealed there are only two artists who have mastered how to use auto-tune (outside of himself) and that is Chris Brown and Jamie Foxx. Makes sense, since he said he was the one who taught both of them how to use it. He sounded off,
"When people hear Auto-Tune, they know that it's used so much for a crutch. I use it to turn my voice into an instrument. Don't get me wrong, there are a lot of guys that use Auto-Tune that cannot sing. The only person I heard use it correctly, like I use it, was Chris Brown and Jamie Foxx".
So who is using the technology and just not doing it right? According to T-Pain that would be Kanye West! You'll recall Yeezy dropped an entire album, 808s & Heartbreak, in 2008 using auto-tune and even with the help of the "Rappa Ternt Sanga" Ye still isn't using it in the most effective way…well so says Pain.
He dished,
"Kanye uses it, but he doesn't use it correctly. He makes great music with it, but the way that I use it and the way that I've shown Chris and Jamie to use it, he doesn't use it that way," he said. "He sings without it first, and then he puts it on it. ... You don't know how it's going to come out. You can't catch your mistakes before that happens. Sometimes he gets a little wobbly and things like that."
Oh…ok. It's interesting to note, T-Pain actually helped Ye on his 808s album and said that the result was "pretty good" being that he helped him use the technology. Guess he's just not feeling what Ye dropped afterwards.
And in a hilarious video…. 
Anthony Hamilton has joined in on the viral video foolishness of "P.O.P's" Donna Goudeau.
After rocking the stage in Melbourne, Australia during Soulfest 2014, Anthony Hamilton and his backup vocalists, dubbed The Hamiltones, decided to have a little fun backstage. In a video clip, Anthony and his crew freestyle their version of "P.O.P. Hold It Down" crooning lyrics/quotes from the recent viral sensation. And it will have you cracking up!
Check it above.