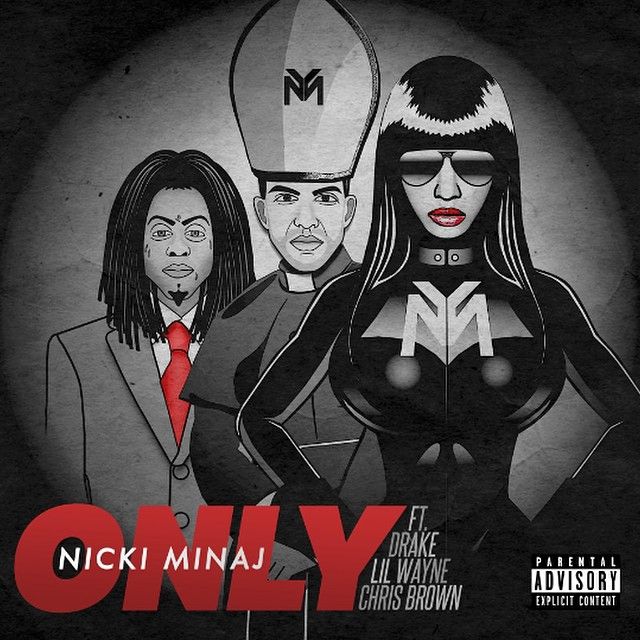 Nicki Minaj premiered her star-studded "Only" single featuring Drake, Lil Wayne and Chris Brown today.  Listen to the track inside and get deets on The Pink Print's pushback and more.
Early this morning, Nicki Minaj debuted her new single "Only" featuring Drake, Lil Wayne, and Chris Brown. The track was produced by Dr. Luke, Cirkut, and J Mike and contains multiple one-liners.
One phrase that's sure to make the listener hit REWIND is "I never f*cked Wayne, I never f*cked Drake...don't worry bout if my butt fake." 
And Drake pipes in with "I never fu**ed Nicki 'cause she got a man, but when that's over, then I'm first in line."
Oh, ok then. But since Nicki and Safaree supposedly broke up recently, we wonder.....
"Only" is the third single off The PinkPrint following "Pills N Potions" and the booty-ful hit "Anaconda." Nicki will likely perform one or all of those hits with she hosts the MTV EMA in Glasgow, Scotland on November 9th. 
Also, we've learned that The Pink Print has been pushed back for three weeks and will now hit stores on December 15th.
On a related note, if you were heading to the music store (or iTunes) to get a copy of Lil Wayne's Tha Carter V today, don't bother! Much like The Pink Print, he's also been pushed back. So when will it drop? For now....there is no release date. The only NEW Weezy music is this new Nicki track. So.......
Listen to "Only":
Also, a few days ago, we brought you photos from Nicki's menswear covershoot with L'Uomo VOGUE. Now, Nicki's released two short films from the shoot via Instagram:
Photos via Nicki's Instagram