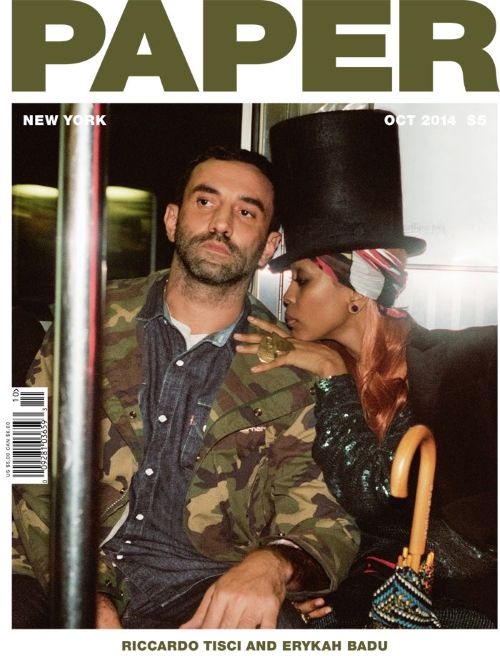 Erykah Badu and designer Riccardo Tisci struck a few poses on New York City's transit system. See pics from their "subway" shot and find out what Mama Joyce has to say about those rumors of her getting into a FIGHT with Todd's mother inside....
The latest October 2014 edition of Paper Magazine features a fashion spread shot underground on the NYC subway system with Givenchy's creative director Riccardo Tisci and his muse Eyrkah Badu, whom he called "THE EXACT DEFINITION OF STYLE." 
The fab pics (shot by Theo Wenner) are accompanied by a Q-n-A with Erykah and fawning testimonial that Riccardo contributed about his obession with all things Badu.  Erykah is the face of Givenchy.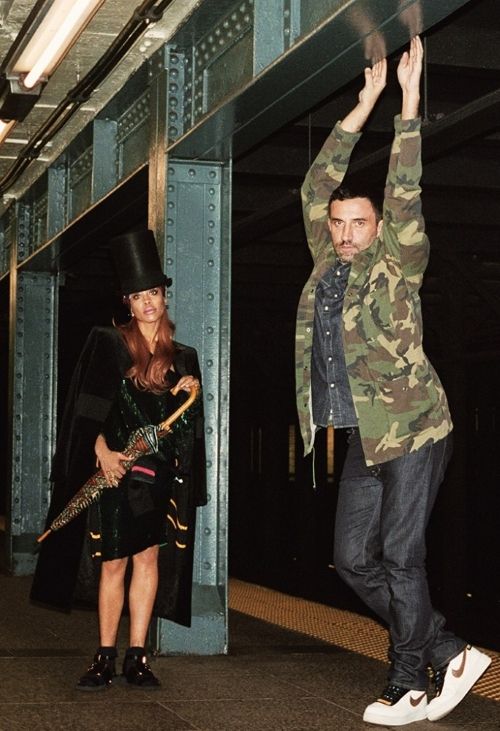 Erykah on meeting Riccardo:  Last year, Riccardo reached out and let me know that he was a fan of my music. At the same time, I let him know that I was a fan of his eye. We were talking and he asked me to be the face of his campaign for [Spring] 2014, which was culturally themed and all of the models in the campaign were of color. He thought that the line would particularly speak through me. I said, "OK!" It was the first time I had done anything like that, besides the Tom Ford perfume ad.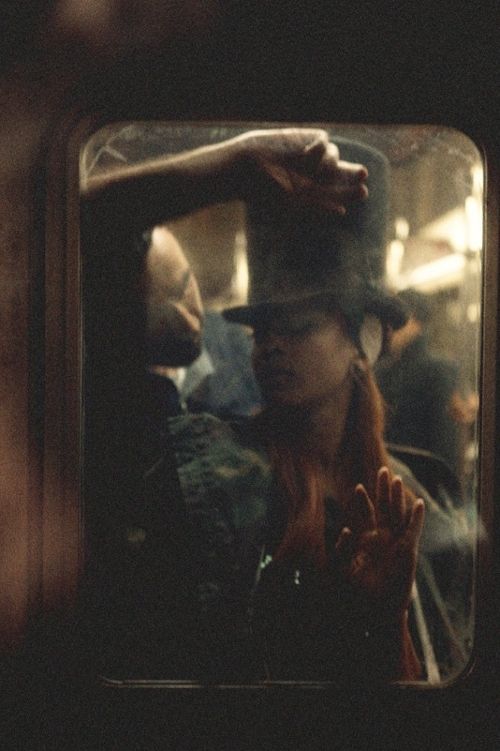 Riccardo on meeting Erykah:  The first time we met was at one of her concerts in New York a few years back. But the first time we actually connected was when she arrived to the set of the campaign. I was so nervous -- it is rare to spend time with one of your idols, and she is truly one of my ultimate ones. She was nothing short of what I had in mind. She arrived with the most outrageous hair (a solo braid long to the floor) and an amazing hat. She was the exact definition of style according to me. We clicked immediately. We hugged and talked for so long, about everything and anything. And we share so much more than aesthetics... I love her.
Erykah on music sales, art and paying the bills:  Well, music has never been lucrative to me. I think my image is more popular than my album sales. The stage is where I shine and pay my bills. But art is art to me. There's nothing new about cross-pollination in art to me because it's all one thing: an expression of who I am. I've always directed all of my videos and been in total control of my image. I write all of the lyrics, stage and produce all of the shows. It's something that comes very naturally to me. It's therapy. It makes me feel awesome, happy, centered and balanced when I can turn out some piece of art -- whether the world sees it or not. It's what keeps me going and breathing.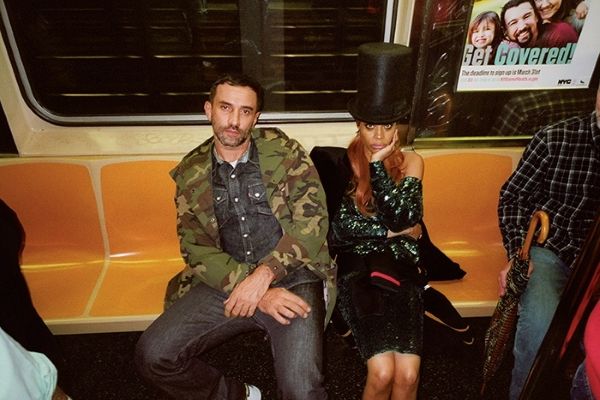 Erykah on her "iconic" Baduism debut:Kind of, because I've always been a nonconformist since I was a very small child. I'm one of those artists that never felt like I quite fit in. Too white for the black kids, too black for the white kids. I felt like I was a dangling participle. Once I got a record deal and was able to express some of these things, I saw that I was unique in what I was doing. It's always given me the inspiration to push the ceiling higher and higher, thus only being in competition with my last level.
 
Pick up your copy now......
And in reality tv news....
"RHOA" regular Mama Joyce and her peach are speaking out against rumors that she and Todd Tucker's mother Sharon Tucker got into a brawl, resulting in the cops and the ambulance to be called!
A certain outlet reported the physical altercation erupted during filming, after they saw each other for the first time since Mama Joyce labeled Sharon a "streetwalker". It's said the two got into a screaming match in each other's face, then Todd's mother eventually "two pieced" Mama Joyce. Producers called the police and an ambulance arrived on the scene, but no one was treated or hauled off to jail.
NOW…Mama J is setting the record straight. She confirms there was no brawl, but had there been, the person wouldn't live to tell the story. Bloop! She also revealed what she was actually doing on the day of the alleged fight.
She said:
Hey Lovies...don't believe everything you read on these blogs! Now y'all know, aint nobody "two-piece" ya #MamaJoyce and live to tell the story! On Oct 4th, I was picking out flowers for my son Patrick who would have been 46 this past Saturday, but God called him home 24yrs ago.So the last thing on my mind are these lies going around about me and Sharon Tucker getting into a "brawl"...again! There was no fight or an ambulance called...As my daughter #RHOA Kandi Burruss would say, we fly above the drama and so should you! Goodnight....
It's not too far fetched that they would get into it during filming since the two almost came to blows once before. But, we're glad they're playing nice….for now.
Photos via Theo Wenner/Mama Joyce's FB