Although it seems Big Sean is getting rather close to Ariana Grande, he's not kissing and telling. Also, Andre 3000 shut down rumors of an Outkast album in the latest issue of Billboard magazine. More inside…
Since his breakup with ex-fiancée Naya Rivera, Big Sean has been spotted spending some extra time with pop sensation Ariana Grande. But this time, he's keeping his personal life…private.
After the G.O.O.D. Music rapper (who is featured on the singer's "Best Mistake" track) was spotted hand-in-hand with Ariana backstage at the 2014 MTV Video Music Awards, rumors were sent into over drive about the twosome possibly being a couple. It was the first time we've seen them show any public affection and it definitely had tongues wagging.
So are they dating? Well… we're not totally sure. But from Big Sean's answer to the question, there may be something there…he's just not going to tell. When asked if he was dating the "Bang Bang" singer he responded,
"I like to keep my personal life personal. But I am going to tell you this... that Ariana is very, very special. She's very special to me. Everything she has going on is good with her, everything I have going on is good with me, everything between me and her is good, and Imma just leave it at that."
Since dissing his ex Naya on his new track "I Don't F*ck With You," featuring E-40, this time he has decided to keep his mouth shut. Good.
Check it:
And on the magazine circuit…
As Outkast continues to rock out up stages on their reunion tour, Andre 3000 opened up (a tad) with Billboard magazine for their October 2014 issue. Today marks the release of his highly-anticipated lead role in the Jimi Hendrix biopic, JIMI:All By My Side.
In the cover story, Three Stacks revealed there are no plans of creating another Outkast album, but don't fret. Big Boi and Andre may be releasing their own individual LPs soon. He also talked about feeling disconnected when news broke about the killing of unarmed teen Michael Brown, if he'll ever retire from rapping and whether he will star in another film.
Below are the highlights:
On a new Outkast album:
"There are no plans to do [an Outkast album]. It's not like some people think: 'They're about to drop this album!' We don't have, like, one song," Benjamin says. "There's no trickery or nothing like that."

On new albums from Big Boi and himself:
"I know Big Boi's [working on his]; I haven't even started on [mine]," says Benjamin, then adds, sounding his common refrain: "I've got to find something I'm excited about."

He added,
"I feel like I will do music in some kind of way, but something that can hit music from the back door," says Benjamin. "Like, if I start to write screenplays and I want to [compose the soundtrack]. Or if I'm making certain product designs and I just want to release music with every shirt I design."

On retiring from rap:
"To be clear, there's no retirement." And he's not in conflict with Big Boi: "It's kind of like growing up in a house with your brother, people expecting y'all to live in the same room and have bunk beds forever," says Benjamin. "And people try to read into it and say people are beefing. But it's nothing like that, man. Big Boi will always be my brother and a really important part of my life."

On if he'll ever act in another film:
"I do read scripts," he says. "But I have to be excited about it to really fully throw myself into it. The older I get, I don't know what my decisions will be. I may start just taking roles just to support myself, just kind of keep busy."

On the killing of Ferguson teen Michael Brown:

"Honestly, I don't have a big urge to voice [my feelings]," he says. "But I do feel kind of guilty sometimes. Like when the whole Ferguson thing went down, we were actually in England, and buddies were telling me about it, like, 'Aw, man, it's horrible here.' But I didn't feel it; I only heard about it. So I felt like, 'Am I out of touch?' "
Peep his artistic spread below: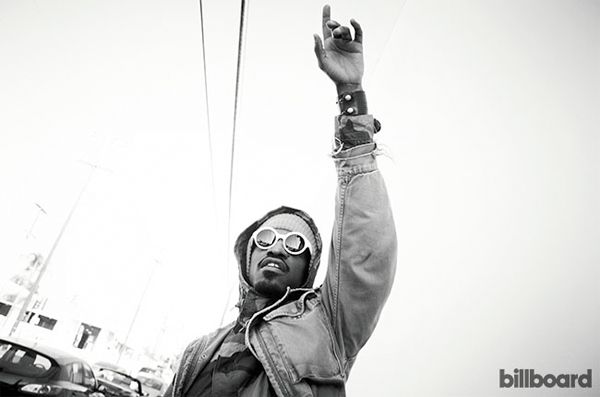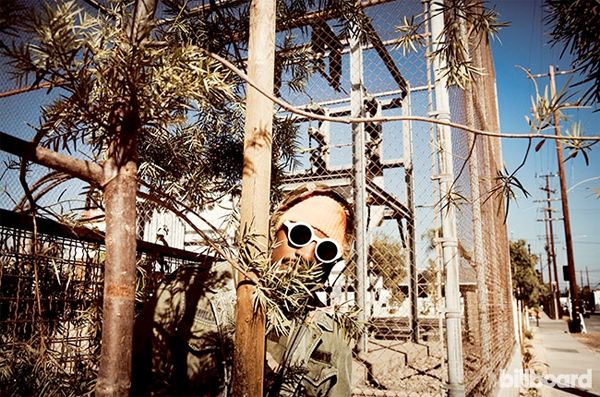 Read his full interview here.
EXTRAS:
1. Celebrity chef/ "Down Home With the Neelys" star Gina Neely filed for divorce from her husband Pat Neely (who also stars on the show) after 20 years of marriage. STORY
Photos: Ryan Seacrest/BILLBOARD