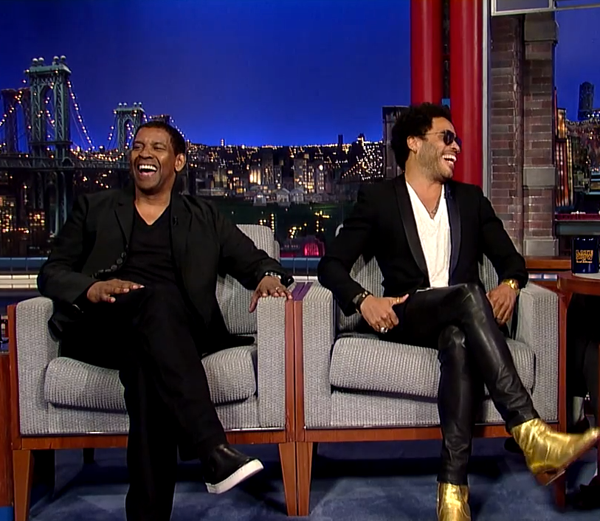 Sexy stars Denzel Washington and Lenny Kravitz had a good time cracking jokes on late night TV last night. Meanwhile, Dr. Dre's selling of Beats By Dre to Apple earned him the top spot on Forbes 2014 Cash Kings List. Deets & video inside…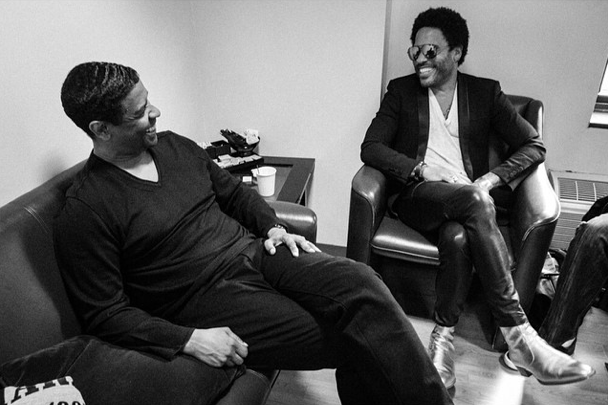 Hollywood legend Denzel Washington (who stars in the new film The Equalizer) and rock star legend Lenny Kravitz (who just released his new album Strut) have built a great friendship over the years. So much so, they often go on vacay with one another and come back with plenty of stories to share.
Last night, the two hit up "Live With David Letterman" and the two kept the laughs coming as they went back and forth with one another, cracking jokes. The guys talked about their recent boat trip together where Lenny forced The Equalizer star to watch his own movies. It seems Denzel only watches his movies once just so he'll know what he's talking about during promo tours.
Check out their banter below:
 
Lenny then hit the stage to perform his title track "Strut":
Then this morning....
The Grammy Award winning rock star hit up the "Wendy Williams Show" to dish on his relationship status (he's single and he's ready to date), fatherhood (Zoe is his best friend), Zoe's mother Lisa Bonet (they're good friends) and his 10th studio album Strut. Check it above.
In other news....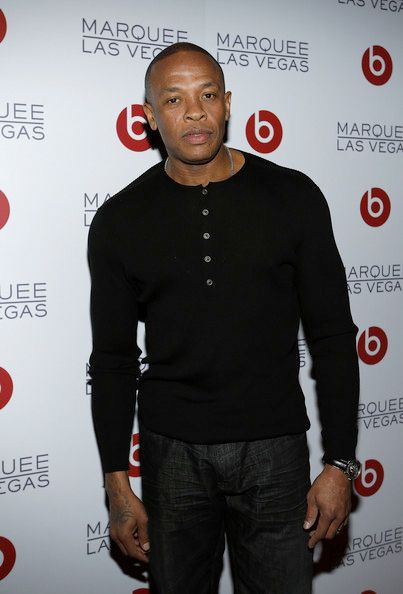 Hip Hop mogul Dr. Dre landed the No.1 spot on FORBES 2014 Cash Kings list. No surprise there. After selling his Beats by Dre headphones to Apple for a cool $3 BILLION, along with his other many projects, it has earned the entrepreneur the highest annual total of any entertainer ever evaluated by Forbes. He certainly deserves the crown.
Although he's not quite a billionaire yet, he's steadily making his way there with pretax earnings of $620 million. Not only that, his total earnings beat out all 24 of his Hip Hop peers on this year's Hip-Hop Cash Kings list. Boss!
Jay Z and Diddy tie at the No. 2 spot earning $60 million this year. This is the highest earnings in a year for Hov since 2010, aided by his Roc Nation empire, 68 concerts during FORBES scoring period, his D'Ussé cognac deal and his certified platinum album Magna Carta…Holy Grail (which sold 1 million copies before it was released due to an agreement with Samsung).
Diddy and his Diageo's Ciroc deal earned him the bulk of his earnings but he also banked cash for other ventures like DeLeon tequila, Blue Flame marketing, Sean Jean clothing, and his new endeavor Revolt TV.
Find out if your favorite Hip Hop entertainer made the Cash Kings list below:
1. Dr. Dre – $620 million
2. Jay Z – $60 million (tie)
2. Diddy – $60 million (tie)
4. Drake – $33 million
5. Macklemore & Ryan Lewis – $32 million
6. Kanye West – $30 million
7. Birdman – $24 million
8. Lil Wayne – $23 million
9. Pharrell Williams – $22 million
10. Eminem – $18 million
11. Nicki Minaj – $14 million
12. Wiz Khalifa – $13 million
13. Pitbull – $12 million
14. Snoop Dogg – $10 million
15. Kendrick Lamar – $9 million
16. Ludacris – $8 million (tie)
16. Tech N9ne – $8 million (tie)
16. Swizz Beatz – $8 million (tie)
16. 50 Cent – $8 million (tie)
20. Rick Ross – $7 million (tie)
20. J. Cole – $7 million (tie)
20. DJ Khaled – $7 million (tie)
20. Lil Jon – $7 million (tie)
20. Mac Miller – $7 million (tie)
 
Photos: Getty/Lenny's IG